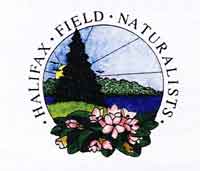 Use of Materials from Archived
Halifax Field Naturalist Newsletters
In general, materials in the archived HFN Newsletters may be used under Creative Commons license/Attribution-NonCommercial-ShareAlike 2.5.
Attribution. You must attribute an article or photograph to the author identified in the newsletter; also cite the Halifax Field Naturalists Newsletter, Issue No. and year of publication. If a specific author is not identifed, attribute the source to Halifax Field Naturalists, HFN newsletter, Issue No.
Noncommercial. You may not use this work for commercial purposes.
Share Alike. If you alter, transform, or build upon this work, you may distribute the resulting work only under a license identical to this one.
For any reuse or distribution, you must make clear to others the license terms of this work.
Any of these conditions can be waived if you get permission from the copyright holder.
For any other uses, contact the Halifax Field Naturalists:
Halifax Field Naturalists,
c/o Nova Scotia Museum of Natural History,
1747 Summer Street,
Halifax, NS B3H 3A6