THURSDAY, JUN. 4: HFN MEMBERS' ART EXHIBIT OPENS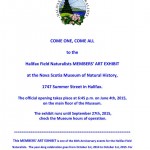 The Halifax Field Naturalists will partner with the Nova Scotia Museum of Natural History (NSMNH) to hold a Members' Art Exhibit. Its official opening will take place at 6:45 p.m., prior to HFN's regular meeting, on the main floor of the Museum. The NSMNH is HFN's public home and the perfect place to hold this exhibit in celebration of HFN's 40th Anniversary. It is also a unique way to showcase the artistic pursuits of some HFN members. The exhibit will run until September 27th, 2015, so plan to visit with your family and friends!
Posted: May 21st, 2015 under Uncategorized.