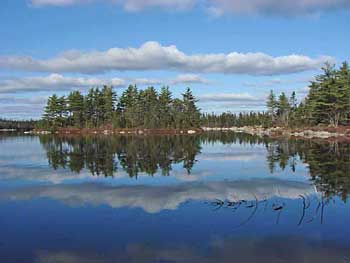 A consortium of developers (Birchdale Projects Inc.) has requested that HRM conduct a secondary planning process for lands they hold adjacent to the eastern lakes in the planned Blue Mountain-Birch Cove Lakes Regional Park. (Susies Lake is in the photo above.) These lakes make up the major part of the water surface within the proposed park (see Map on page 5 of the HRM Q&A document). Development of these lands as residential lots would result in loss of key lands intended for multiple recreational use in the Regional Park, have direct impacts on water quality, and threaten the integrity of the adjacent Blue Mountain - Birch Cove Lakes Protected Wilderness Area. See CPAWS-NS for more information about this issue.
Development plans threaten Blue Mountain-Birch Cove Lakes Regional Park
There seems to be some stalling if not backtracking by HRM in regard to the promised Blue Mountain-Birch Cove Lakes Regional Park. The 2006 Regional Plan laid out plans for a Regional Park at Blue Mountain-Birch Cove Lakes (BMBCL). The park would include a core wilderness area and a peripheral multiple use recreational area. (See Focus Report Appendix B1 & Appendix B2 for details.) In October of 2007, the province made a commitment to protect a large crown land block within that area; 1312 ha of crown land, covering most of the area conceived as core wilderness area and some of the area conceived as multiple use recreational area in the Regional Plan, were designated a wilderness area under the Wilderness Protection Act in April of 2009. (See Blue Mountain - Birch Cove Lakes Wilderness Area.) HRM had agreed to procure privately held lands (by purchase, land swaps or other means) to complete the park including land around the eastern lakes, which comprise the major part of the water surface within the proposed Regional Park.
Lands within the Blue Mountain - Birch Cove Lakes Park are both privately and publically owned and a study has been completed to determine appropriate boundaries for the park. A conceptual geographic area for the park is shown on Map 13. It is the intention that, over time, the necessary private lands within the park be acquired for public use. Methods of acquisition range from provincial and municipal partnerships, as financial resources permit, land trades and conservation easements. Once acquired, public lands within the park will be re-designated as Open Space and Natural Resource and zoned Regional Park. SOURCE: Regional Municipal Planning Strategy, page 24
Over the past several months, rumours have circulated about possible development of the private lands. On January 8, HRM staff hosted an information session to clarify what has been happening. About 75 people attended, including seven of the 23 HRM councilors. The essence of what they were told is contained in a Q&A document which is posted at http://halifax.ca/regionalplanning/documents/BirchCoveSusieLakeQandA.pdf

In summary, on July 31, 2009, Birchdale Projects Inc. requested HRM to conduct a secondary planning process for the private lands they hold within and adjacent to the proposed park. Staff looked at this request and two others for other areas. The area that includes the BMBCL Regional Park is referred to as "102 Hwy.

Corridor Lands"; the other areas are Port Wallis Lands (Dartmouth) and Sandy Lake Lands (Bedford). As there is no shortage of land in HRM for projected growth to 2026, staff recommended that consideration of requests for secondary planning be deferred to the second review of the Regional Plan in 2016.

It is now up to Regional Council to accept this recommendation - or not.

Noticeably absent in the Staff's Report of Oct.21, 2009 is any mention of procurement of the private lands for the Regional Park. Following the staff's presentation, the floor was opened for questions and an intensive discussion took place over the ensuing 2 hours. Speaker after speaker expressed dismay that HRM has not been moving ahead with its commitment to procure the private lands that lie within the proposed regional park and commented on the many negative impacts of developing the lands for residential use. Three councillors said they agreed and would not support any request for secondary planning involving these lands. That leaves 20 and the Mayor that we are not sure about!

If you are concerned about this issue, please let your councillor and/or the Regional Plan Advisory Committee (RPAC) know how you feel about it. The secondary planning request will not go to Regional Council until the Regional Plan Advisory Committee discusses it again at a meeting. Attendees of the January 8 Information Session were told that it will not be discussed at the Jan RPAC meeting since the Supplementary Staff Report will not be ready by then. So, it looks like it will be discussed at the Feb RPAC meeting and go to Regional Council shortly thereafter.

HRM Councillors, their districts and contact info. are available at http://halifax.ca/districts/index.html

HFN has led guided hikes into the Blue Mountain - Birch Cove Lakes area and will do so again. Please contact us if you would be interested in joining us for a winter hike or one next spring/summer.
---
Notes & Comments by David Patriquin and Bob McDonald (HFN)