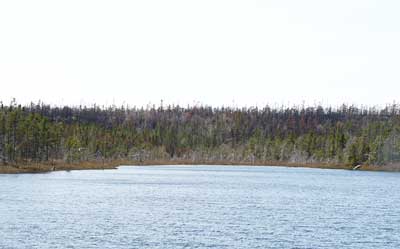 Burned area on high barrens is visible to the SW from "The Camp" on north side of Purcell's Pond.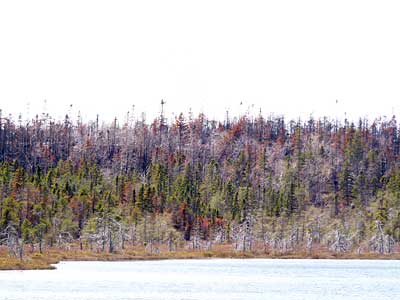 Closer view
Halifax Field Naturalists
Capt. Arnell Conservation Lands
Post-Fire Photos May 15, '09
On May 15,'09 Bob M., Phil S. and I (David P.) walked the trail into Flat Lake to look at fire damage. The burned area is largely jack pine granite barrens. Jack pine, black spruce, fir, birch, red maple are (or were) the most common trees in the burned areas; shrubs: witherod, huckleberry; ground vegetation: tea berry, broom crowberry, reindeer lichens. The vegetation large and small was totally burned, but the duff (humic) layer was only superficially burned so there should be some regeneration from rhizomes, as well as from buried seed. There were many jack pine cones on the ground and recently released jack pine seeds could be seen as well. The burned areas stopped abruptly at junctions with low, wet areas.