Halifax Field Naturalists

Purcell's Cove Conservation Lands Post-Fire Photos

Sept. 22, '09:
Jack Pine Seedlings

Use of Photos



Click on images for larger versions.
On a hike into Flat Lake via our usual trail, I observed seedlings of jackpine at two sites, both under burnt trees. Jack pine seedlings were not observed under other burnt trees, but a methodical search would likely reveal more sites and there may be more next year. - DP.
| | |
| --- | --- |
| | Near Flat Lake. About a dozen jack pine seedlings were present under this burnt tree. Other species: mostly Gaylussacia baccata (black huckleberry) |
| | |
| --- | --- |
| A single plant of Artemesia stellariana (beach wormwood) was observed at this site, but not elsewhere on the Conservation Lands. | Some seedlings appeared severely drought stressed. |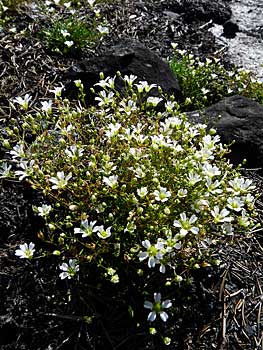 Mountain sandwort (
Arenaria groenlandica
)
on burnt ground near Flat Lake.

A second site near Flat Lake.
(N44 35.993; W-63 34.879)

Other species: Luzula luzuloides (woodrush), Kalmia angustifolia (lambkill), Gaulheria procumbens (teaberry).
---