Nova Scotia Nature Trust is recipient of the Colin Stewart Conservation Award for 2015
Text from the presentation by Richard Beazley on Oct 1, 2015.

The CSCA recipient for 2015 is 21 years old, hard working, known throughout NS, ambitious, energetic, outgoing, loved by both women and men alike, unpretentious, and successful.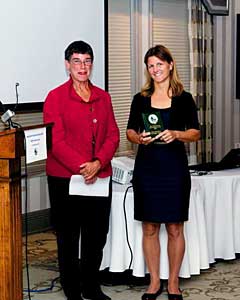 Betty Hodgson with Bonnie Sutherland of the NSNT. Photo Courtesy of Dr. George Mitchell.

This worthy recipient is the Nova Scotia Nature Trust, which was formed in 1994 by a group of Nova Scotians who foresaw the wisdom of conserving the province's increasingly threatened, ecologically significant lands. As mentioned a moment ago, Colin Stewart was a member of the founding group!

The Nature Trust is an incorporated charitable organization dedicated to conservation. It is operated by a skilled professional staff under the guidance of a volunteer Board of Directors. Their work is done with the support of many donors, volunteers, strong province-wide membership, and cooperation from private landowners and land stewards.

The Nature Trust is recognized throughout Nova Scotia as the province's pre-eminent conservation organization for privately owned lands. Its mission is to protect Nova Scotia's outstanding natural legacy through land conservation, and its vision is a future in which Nova Scotia's native species, unique habitats, and natural landscapes are protected in perpetuity.

Several beliefs guide the work of Nature Trust personnel, such as,
protected natural areas are essential to the quality of life of Nova Scotians,
action is needed to protect important natural areas that are increasingly threatened by development and resource use, and
a focus on private lands is critical because they make up about 70 percent of Nova Scotia.



Richard Beazley shares a light moment with Bonnie Sutherland as they view the plaque for the C-S Award. Photo Courtesy of Dr. George Mitchell.

Approaches by which Nature Trust personnel strive to achieve their mission include
using best available, most up-to-date conservation science to inform their work;
acquiring land through purchase, and acceptance of donations and bequests;
entering into permanent, legal conservation agreements with landowners;
providing long-term protection and management of conservation lands; and
partnering with individuals, families, institutions, and governments to implement creative conservation solutions.

To say that the Nature Trust has been successful in its 21 years of operation is an understatement. To date, it has protected over 4,000 hectares of special places in 73 conservation lands spread throughout Nova Scotia. Let me mention just a few of the special places protected forever by the Nature Trust.
11 properties in southwest NS, comprising 500 hectares of critical habitat for endangered flora.
the 120 hectare Devils Jaw Conservation Land, which is a key piece of ecologically rich river frontage bringing a vast freshwater wilderness sanctuary in Hants County one step closer to reality.
6 properties, over 300 hectares, on the St. Mary's River in Guysborough County; and
the extensive shoreline of MacKenzie Cove on the Bras d'or Lakes in Cape Breton.

With a sharp eye to the future, campaigns of various sizes are ongoing to protect much more land. I'll mention only two examples.
A little known yet incredible natural treasure - a vast and beautiful archipelago of over 100 wild islands, just off the Eastern Shore. This is one of the last remaining intact and ecologically rich island groups of its size in North America.
And, Rogues Roost, 12 hectares in a 1,200-hectare wild area, near Prospect, to ensure that this spectacular secluded inlet, a favourite destination for generations of sailors, kayakers, and hikers, is safe from development. Much, much more has been, and will be, said about the NSNT. For now, let's celebrate this marvelous land conservation organization by presenting the CSCA.

Presenting the award will be Betty Hodgson, wife and helpmate of Colin Stewart.

Receiving the award will be the Nature Trust's one and only Executive Director, Bonnie Sutherland.


---
More about the Colin Stewart Conservation Award
More about the Nova Scotia Nature Trust