Celebrating the New Wilsons Lake Conservation Lands: Tributes to HFN's First President
The Nova Scotia Nature Trust announced yesterday their acquisition yesterday of a key property on Wilsons Lake in the Tusket River system that will protect rare wetland plants of the Atlantic Coastal Plain flora. "One property in particular has been a top conservation priority for decades, since the first discovery of these unique plants in Nova Scotia."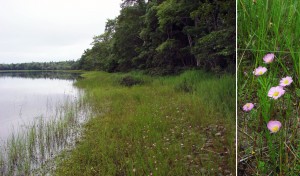 The press release comments on the key role played by Dr. Paul Keddy. Read more.
As a graduate student, Paul was a founder of the Halifax Field Naturalists in 1975, and its first President! Read a Report Paul and Cathy Keddy wrote in the Halifax Field Naturalist (1981/82) in which they describe the Wilsons Lake and other sites and discuss how and why these rare plants came to colonize these sites.
John Brownlie in Issue No. 45 of the Halifax Field Naturalist (1986) comments on the significance of Paul's efforts for conservation in Nova Scotia: "Nova Scotia has many special treasures: rare plants, old growth forests, important bird nesting sites. No less than 80 natural areas have been selected to become ecological reserves – safe places for these rare and unique treasures. But, none of these areas have been formally designated as an ecological site. None are legally protected against environmental damage by human activities. So – who's looking after our ecological sites?! Until 1985, no one was. At least no one was officially appointed. But Paul Keddy, founding member of Halifax Field Naturalists in 1975, appointed himself. He knew, at first hand, the danger by cottage development to rare plants growing along a chain of lakes in the Tusket River System. Several of these plants grow nowhere else in Canada. He has worked for several years to prepare an inventory of natural resources and a management plan for the area, Through his efforts a site on the Tusket River will become Nova Scotia's first ecological reserve. The land has already been purchased by the Nature Conservancy, and once the management plan is approved, a very special community of rare plants will be officially and legally protected."
Posted: August 15th, 2015 under Uncategorized.