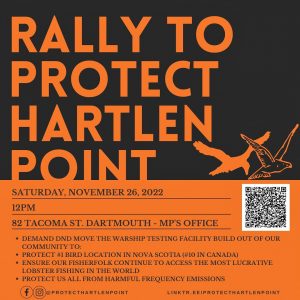 UPDATE: VIEW CBC: Concerns raised over plans to build warship testing facility at Hartlen Point (NOV 23, 2022)
Hartlen Point in Eastern Passage "is regarded as one of the best mainland migrant traps in Nova Scotia comprised of open areas, fairways of the golf course, mud flats, spruce thickets, cobble and kelp-covered beaches, cattail marshes, ponds, bogs and alders that are used as breeding areas for some and a magnet for migrant songbirds to rest and forage. Over 250 species of birds have been documented here." (NS Bird Society).
The ecological integrity of the site is seriously threatened by  a plan to locate a naval training complex on it.
Protect Hartlen Point – A community-organized movement to protect the thriving ecosystem of Hartlen Point and the surroundings – asks people concerned about the site to join a peaceful rally on Saturday Nov 26, 2022 at the office of Darren Fisher, MP for Dartmouth-Cole Harbour,  located at 82 Tacoma Drive, Dartmouth.   Read more »
Posted: November 20th, 2022 under Conservation, Events.
Comments: none