We welcome links to galleries with photos from our field trips, or other natural history oriented galleries, e.g., on Flickr.
Click on photos for larger versions.
YNC Swamp Milkweed day
Pictured below are the YNC group, Learning about Swamp Milkweed and it's critical value to Monarch Butterflies. During this outing participants made seed bombs with harvested seed to take home with them. They also exuberantly tasted several cultivated and wild plants, Ground Cherries were a big hit. Directed by their leaders and parents they were a joy to watch and listen to. This outing was arranged and carried out in collaboration with the Halifax Field Naturalists Society. Photos thanks to Jennifer Hahn.
| | |
| --- | --- |
| | |
Middle Stewiacke River Run
Saturday, July 8th, 2023
Photos: Bernie McKenna
We were expertly led on this trip by our own HFN member Gareth Harding, and well led we were.

Gareth made a great choice as to river route site, good water flow and level, lush vegetation from water level to tree top, and a gravel bar lunch spot that even had a swimming hole in a back eddy.

Several species of bird life were seen.

I suspect everyone's highlight was a colony of 30 to 40 Bank Swallow nest tunnels – that brought back a lot of memories of days when they were much more common

We were on the water by about 11:30 and off by 3:30 or so, lunch and swimming included.

Great day  all around, from the river, the scenery and the company.  It could not have been better.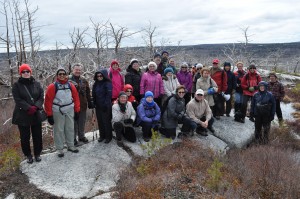 Piggy Mountain Hike
April 16, 2016
Photo by Karen McKendry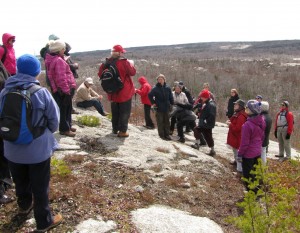 Piggy Mountain Hike
April 16, 2016
Photo by Richard Beazley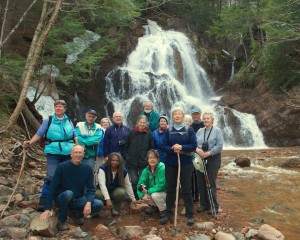 Wentworth Falls
May 9, 2015.
Photo by George Mitchell.