About Our Walks and Talks
Our walks are led by specialists or well schooled naturalists, and provide a good way to expand your knowledge of local natural history as well as to mingle with members of the natural history community.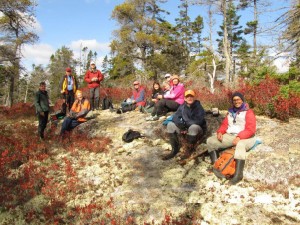 Brad Armstrong and Doug van Hemessen led HFN participants into the Nature Conservancy of Canada's Deep Cove Nature Reserve on Oct 24, 2015.
We usually have one or more walks a month throughout the year. All participants in HFN activities are responsible for their own safety. Always wear suitable clothing and footwear for the weather, the activity, and the terrain. If in doubt, call the contact person listed for each field trip.

Our talks are given by both experts and interested amateurs. They provide an opportunity to learn what local scientists, volunteers, and HFN members are up to. Regular meetings with talks are held on the third Tuesday of every month except July and August at 7:30 PM in the auditorium of the Nova Scotia Museum of Natural History, 1747 Summer Street, Halifax. Meetings are open to the public, however in the event of the room being filled up, members would be given priority.  Use the entrance next to the parking lot. There is a charge for parking at the Museum; usually, two hours will be adequate.
Upcoming Events
Note: As of September 2023 our regular meeting time has changed from the first Thursday of the month to the third Tuesday on the month.
Saturday Sep 30, 2023: Halifax's Backyard Wilderness
Please join us as longtime HFN member Gareth Harding steps in to lead this walk which was previously slated for
Sept.16th. We'll experience early fall in the Backlands, when Huckleberries should be in good colour. This area, so fantastically close to our city, is really only minutes away, and is a pleasure to view. By then the air should definitely have a different feel to it – it may be a bit crisp! Gareth will help us connect with this place which is so close and convenient. Please
bring a lunch. Registration is required!
Rain Date: Sunday, Oct 1st
Contact: Bernie McKenna, 902-434-3202, mckennab197@gmail.com.
Time/Place: 10:00 a.m. at the trail's head on Norawarren Dr. at the corner of Reginald St. by the mailboxes.
Difficulty: Light to moderate; often a single file trail.
Duration: Approximately 3 hours, Sandwich Stop included (bring a snack)
Sunday, Oct. 1, 2023: Walter Regan Park 
Guest of Honour Walter Regan will greet us at this new Wilderness Park in Lower Sackville which covers about 800 hectares of mature forests, wetlands, lakes and waterways. It helps conserve Sackville River and Pockwock watershed, which provide communities with water, and recreation areas. After a special message from Walter, we' ll explore and take a leisurely nature hike along the the Little Sackville River Greenway. Join us for our only 'NO, NO' walk of the year. "No Limits, No Registration Required, and No Membership Required".Rain Date: No Rain Date
Contact: Laura Eamon, 902-237-7423.
Time/Place: 1:00 p.m., 745 Sackville Drive, Atlantic Superstore, near the gas station.
Difficulty: Light to moderate
Duration: 2-3 hours
Tuesday Oct 17, 2023: Regular Meeting, Topic TBA
Speaker: John Crabtree on Orchid/Fungi Relationships
John Crabtree, our HFN resident guru of all thing's fungi, will lead us in this orchid talk, during which he'll cover a love/hate
relationship he has with one particular orchid and its connection to certain fungi. The Platanthera Orbiculata is the specific orchid in this tale but we'll leave it to John to reveal all. This, like all John's talks, will no doubt cover many interesting
points that most of us have never known. 7:30 p.m. at the NSMNH
Saturday Oct 25, 2023: Rare Birds Walk
Some of the rarest birds of the year show up in HRM in late November and early December! This year Clarence Stevens
Sr. will lead us on this 'Rare Birds Walk' hitting the the hottest of the hot hpots during the last weekend in November. Registration is required.
Rain Date: No Rain Date
Contact: Clarence Stevens Sr., 902-464-1664
Time/Place: 9:00 a.m. to 12:00 p.m., Sullivan's Pond, Dartmouth.
Difficulty: Light to moderate
Duration: 3 hours
 Tuesday, Nov. 21, 2023. Regular Meeting
Speaker: Kelly Umlah on TransCoastal Adaptations 
Education and Outreach Coordinator Kelly Umlah will speak about TransCoastal Adaptations (TCA), a Centre for Nature-Based Solutions (NbS) at Saint Mary's University. TCA engages in research and partnerships which promote and undertake projects related to climate change adaptation. Creating synergies between academia, industry, government, and non-profits, they aim for on-the-the ground solutions that benefit local communities. They recognise the necessity of nature's invaluable ecosystem services – such as salt marshes, seagrass, reefs, and dunes. They keep/reintroduce natural structures and materials on shorelines to mitigate flooding and erosion, and to improve water or air quality. TCA provides tools and expertise for projects, ranging from homeowners to governments, with programmes such as 'Green Shores' and 'Making Room for Wetlands'. 7:30 p.m. at the NSMNH
Thursday, Dec 21: Regular Meeting & Holiday Social
Speaker: Clarence Stevens on Natures Good News
Join Clarence Stevens as we review all of the positive events which have happened in the past year to benefit Nova Scotia's natural environment and its plants and animals.
Our annual Members' Holiday Social will take place after the above talk. Please bring your sweets or savouries and nonalcoholic beverages to the usual meeting area. A subscription to the Halifax Field Naturalist would make a good holiday
gift!; bring your money or a cheque. Please note – there are no facilities for heating food. 7:30 p.m. at the NSMNH
HFN Membership:  Just a friendly reminder that HFN memberships expire at the end of the calendar year. If you have not already   done so, please consider renewing your membership.
Details available here: http://halifaxfieldnaturalists.ca/hfnWP/?page_id=2893
It should also be noted that Nature Nova Scotia memberships are no longer available via HFN. Should you wish to continue your membership with Nature NS, or join for the first time, please visit: https://naturens.ca/join/