Walks & Talks
About Our Walks and Talks
Our walks are led by specialists or well schooled naturalists, and provide a good way to expand your knowledge of local natural history as well as to mingle with members of the natural history community.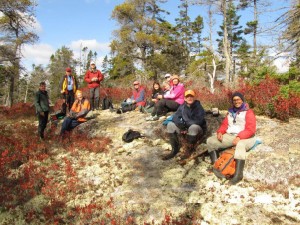 Brad Armstrong and Doug van Hemessen led HFN participants into the Nature Conservancy of Canada's Deep Cove Nature Reserve on Oct 24, 2015.
We usually have one or more walks a month throughout the year. All participants in HFN activities are responsible for their own safety. Always wear suitable clothing and footwear for the weather, the activity, and the terrain. If in doubt, call the contact person listed for each field trip.

Our talks are given by both experts and interested amateurs. They provide an opportunity to learn what local scientists, volunteers, and HFN members are up to. Regular meetings with talks are held on the first Thursday of every month except July and August at 7:30 PM in the auditorium of the Nova Scotia Museum of Natural History, 1747 Summer Street, Halifax. Meetings are open to the public. Use the entrance next to the parking lot. There is a charge for parking at the Museum; usually, two hours will be adequate.

Upcoming Events
---
Field Trip – Brookfield Wetlands – Saturday, May 14
HFN member Emma Bocking will lead us along well-graveled paths which encircle two wetland ponds. Almost two kilometres of trail, split into two circuits, will take us around both of them. The ponds themselves are the result of a combined project of Ducks Unlimited and Lafarge Concrete, and they cover twenty acres of valuable wetlands. It's really refreshing to see wetlands saved and secured instead of what is too often the opposite. This being a mid-May excursion, spring and all its natural activities will be well established and very evident. There should be a variety of native plants to be seen, along with both waterbirds and songbirds (this is the only place I have ever seen a Marsh Wren). There are documented sightings at these ponds of – River Otters, American Eels, Brown Bullheads, and Snapping Turtles; no doubt there are a wide variety of amphibians and reptiles there also. The gravel paths are firm for walking, but be warned that bird and dog droppings are numerous, thus, appropriate footwear is recommended.
Advance registration is required.
Rain Date: Sunday, May 15, same time, same place
Contact/Registration: Bernie McKenna, 434-3202; mckennab197@gmail.com
Time/Place: 10:00 a.m. at Brookfield Wetlands parking lot. Take exit 12 north off Hwy 102 and north towards Brookfield; the parking lot is on the right.
Duration: 3.5-4 hours, travel included
Difficulty: Easy walking
---
Field Trip – Cole Harbour Heritage Park – Cancelled
---
Monthly Meeting – From Coast to Coast to Coast – Thursday, June 2
Building climate resiliency through marine protected areas. In this talk, Dalhousie University/Ocean Frontier Institute's marine biologist Boris Worm explains the scientific rationale for using marine protected areas to foster resilient ocean ecosystems; these areas can withstand the impacts of climate change and therefore better help to secure fragile biodiversity and a reliable seafood supply at the same time. He will discuss case studies from Canada's three coasts as well as international ones, and present new results of a 5-year research project on climate-smart protected area planning
The meeting will be at 7:30 PM in the auditorium of the Museum of Natural History.
---