Walks & Talks
About Our Walks and Talks
Our walks are led by specialists or well schooled naturalists, and provide a good way to expand your knowledge of local natural history as well as to mingle with members of the natural history community.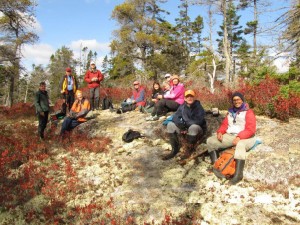 Brad Armstrong and Doug van Hemessen led HFN participants into the Nature Conservancy of Canada's Deep Cove Nature Reserve on Oct 24, 2015.
We usually have one or more walks a month throughout the year. All participants in HFN activities are responsible for their own safety. Always wear suitable clothing and footwear for the weather, the activity, and the terrain. If in doubt, call the contact person listed for each field trip. Note: Due to Covid-19 regulations, only HFN members can currently join our walks.

Our talks are given by both experts and interested amateurs. They provide an opportunity to learn what local scientists, volunteers, and HFN members are up to. Regular meetings with talks are held on the first Thursday of every month except July and August at 7:30 PM in the auditorium of the Nova Scotia Museum of Natural History, 1747 Summer Street, Halifax. Meetings are open to the public. Use the entrance next to the parking lot. There is a charge for parking at the Museum; usually, two hours will be adequate.

Upcoming Events
---
Field Trip – Annual Sewer Stroll – Saturday, January 22

Join birding expert Fulton Lavender to visit all our favourite winter sites in and around Halifax Harbour looking for ducks, gulls, and alcids – at Hartlen's Point, Eastern Passage, Sullivan's Pond, Tuft's Cove, and the Bedford Waterfront. Dress warmly and bring lunch, binoculars and/or a scope, and field guides.
Storm Date: Sunday, January 23
Contact/Registration: Carol Klar, cklar@bellaliant.net, 902-443-3385
Time/Place: 9:00 a.m. at McCormack's Beach Provincial Park in the parking lot just past Fisherman's Cove.
Duration: 9:00 a.m. to 1:00 p.m.
Difficulty: Easy to moderate
---
Monthly Meeting – Piping Plovers of Nova Scotia – Thursday, February 3
Laura Bartlett has been the Nova Scotia Coordinator for both the Birds Canada Piping Plover Conservation Programme, and the Space to Roost Programme, since 2019. As such, she is exactly the right person to present this talk. These amazing birds arrive here every spring, and after their long journey they are faced with the tasks of finding suitable nesting sites and then successfully raising their chicks. In so doing, they need a healthy and dynamic coastal environment with hopefully as few obstacles as possible; unfortunately, there are many obstacles, both natural and man-made. Considering all this, the fact that these Plovers are able to persevere and produce broods is truly amazing. Laura will give us a detailed overview, of the Piping Plover situation in our province, and will have suggestions on how HFN members can help.
If COVID restrictions allow, 7:30 p.m. at the NSMNH, with masks and proof of vaccination. If not allowed, 7:30 p.m., by zoom Invitation Only.
---
Monthly Meeting – Annual General Meeting and Members' Photo Night – Thursday, March 3
The Annual General Meeting takes place first, where reports on HFN's activities over the past 12 months are presented, followed by the election of the next Board of Directors. Then it is 'show time' to view and hear about a variety of members' self-shot photos. If you are an HFN member and would like to share some of your favourite nature-oriented or vacation digital images, but are reluctant to give an extensive talk, this is a chance to give an eight-to-ten-minute mini-presentation. Six presenters can be accommodated on a first-come-first-served basis, with up to three first-time presenters having priority. If interested, please contact Emma Bocking by February 24th, emmabocking@gmail.com.
If COVID restrictions allow, 7:30 p.m. at the NSMNH, with masks and proof of vaccination. If not allowed, 7:30 p.m., by zoom Invitation Only.
---
Field Trip – Blue Beach Museum and Walk – Saturday, March 26
We're truly fortunate to have three top-notch experts lead this two-part outing. Extremely knowledgeable Chris Wood and wife Sonja own and operate the Blue Beach Fossil Museum. Graciously opening it at this cold time of year especially for our benefit, they'll give us an in-depth guided tour of all the important fossils they have accumulated. Afterwards, St. Mary's Geology Department's Dr. Howard Donohoe, DFGAC, PGeo, will lead the walk at the beach itself, where, because its bank face is continually eroding, new and varied items are continually being exposed, with spring being the most active time for this. The fossils of Blue Beach take us back 350 million years, pre-dating those at Joggins by some 40 million years! And, considering the skill and in-depth knowledge of these leaders, this will shape up to be a very informative, enlightening, and enjoyable day. It's simply tremendous to have such a world-class location in our province. With Harold's expertise this should definitely be a very informative, enlightening, and enjoyable walk; even the short walk from the parking area to the beach, which is normally good footing, is an interesting little walk on its own. Warm and waterproof clothing and footwear is strongly recommended. Registration is required in advance. Note – there are no public washrooms at this location.
Rain Date: Sunday, March 27
Contact/Registration: Bernie McKenna, 902-434-3202, hbmckenna@gmail.com
Time/Place: Time TBA. Take first Hantsport exit off Hwy 101 west; follow the old #1 Hwy west through Hantsport to Hants Border. Stay to the right and take Blue Beach Road to the parking area on the right.
Duration: Approximately four hours, including car travel.
Difficulty: Generally good beach walking; mostly loose stone mix with stretches of solid rock.
---
Monthly Meeting – Native and Edible Plants – Thursday, April 7
From fiddleheads, to spruce tips, to periwinkles – wild food is fun to find, collect and eat. Join Jamie Simpson for a chat about gathering and eating wild foods. Jamie is a forester, lawyer, and writer with a passion for exploring our natural world (and sometimes eating it). In addition to Eating Wild in Eastern Canada, he is the author of Restoring the Acadian Forest: A Guide to Forest Stewardship for Woodlot Owners in Eastern Canada, and Journeys through Eastern Old-growth Forests. Jamie has received several awards for his conservation work, including the Elizabeth May Award for Environmental Service, the Environmental Law Prize from Dalhousie University, and the Honour in the Woods Award from the Nova Scotia Environmental Network.
If COVID restrictions allow, 7:30 p.m. at the NSMNH, with masks and proof of vaccination. If not allowed, 7:30 p.m., by zoom Invitation Only.
---