Walks & Talks
About Our Walks and Talks
Our walks are led by specialists or well schooled naturalists, and provide a good way to expand your knowledge of local natural history as well as to mingle with members of the natural history community.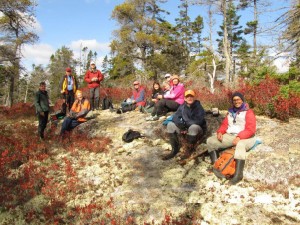 Brad Armstrong and Doug van Hemessen led HFN participants into the Nature Conservancy of Canada's Deep Cove Nature Reserve on Oct 24, 2015.
We usually have one or more walks a month throughout the year. All participants in HFN activities are responsible for their own safety. Always wear suitable clothing and footwear for the weather, the activity, and the terrain. If in doubt, call the contact person listed for each field trip.

Our talks are given by both experts and interested amateurs. They provide an opportunity to learn what local scientists, volunteers, and HFN members are up to. Regular meetings with talks are held on the first Thursday of every month except July and August at 7:30 PM in the auditorium of the Nova Scotia Museum of Natural History, 1747 Summer Street, Halifax. Meetings are open to the public, however in the event of the room being filled up, members would be given priority.  Use the entrance next to the parking lot. There is a charge for parking at the Museum; usually, two hours will be adequate.
Upcoming Events
Thursday, January 5 – Regular Monthly meeting:
Chemistry is everywhere!
What in the World ISN'T Organic Chemistry?
by Keith Vaughan
SYNOPSIS
This presentation aims to show the audience that organic chemistry is pervasive in
almost all of our lives and daily activities.
Organic substances are vital to nutrition, i.e. the things we eat and drink. Bodily hygiene
depends on a variety of soaps and shampoos, which are organic in the form of sodium
or potassium fatty acid salts. Cosmetic products used in make-up and beauty
treatments contain, in addition to plain old water, emulsifiers, preservatives, thickeners,
moisturizers, colours and fragrances, that are all organic chemistry based.
Our health depends on organic chemicals in the form of drugs (pharmaceutical) and
diagnostic chemicals. The molecules of life, protein, DNA/RNA, and sugars, are all
organic compounds.
What would the world be like without COLOUR? Colour is found in natural substances
and in synthetic, man-made, materials, but essentially organic chemicals prevail. The
colours found in the plant world, from the green grass to red tulips and blue cornflowers,
are all organic, as are most of the natural and synthetic dyes used in the textile industry.
Even the fibres that make up our clothing are organic. Natural fibres like silk, wool and
cotton, or synthetic fibres like nylon, rayon (semi-synthetic) and polyester, are all
organic substances.
Fertilizers and insecticides used in agriculture are largely synthetic organic compounds.
Taste and flavours derive from a variety of organic substances called esters and
flavonoids (phytonutrients, plant chemicals).
The talk includes an introduction to some of the basic concepts of chemistry, like
valence and bonding, with a straightforward explanation of how to interpret a complex-
looking chemical formula. If you can count to four, you should be able to follow the talk
without too much brain activity.
Sewer Stroll 
Join us on this popular annual winter adventure as birding expert Fulton Lavender takes us to some of the top HRM winter bird-
watching sites. We'll get to see a wide variety of water loving species as well as a selection of rare land birds. Dress for winter
hiking and standing around in the cold with binoculars and scopes.
NOTE: Registration is mandatory for this event. Please call Fulton Lavender at 902-455-4966
Storm Date: Sunday, January 15
Contact: Fulton Lavender 902-455-4966. Limit: 20.
Time/Place: 9:00 a.m. at Sullivan's Pond, Dartmouth. Meet at Nowlan Street parking lot, off of Prince Albert Road.
Duration: 4 hours.
Difficulty: Medium. Short walks on groomed trails or sidewalks; however, ice and snow may be present.
Wednesday, February 8 at 7:30 – Regular Monthly meeting:
NOTE: The date of the meeting had to be changed as the Museum auditorium was not available on our regular meeting night.
NS Power and Ospreys 
NS Power's Environmental scientist Peter Morrison will guide us through its Osprey Management Programme covering all
aspects and objectives, such as the recent successful relocation of Russell Lake's Osprey nest, and how nests on high
voltage are safely handled. With Peter's background and experience within this environment he'll be able to cover many
aspects of this wonderful programme and its accompanying rewards. 7:30 P.M. at the NSMNH
Thursday, February 9 – February outing
Dalhousie Aquaculture Facility Tour 
Did you know that Dalhousie does a large range of Aquaculture related activities from Rainbow trout to mussel and oyster work? Join John Batt, Aquatron Manager, for a guided tour of the facility to learn about the work going on.
Dalhousie Aquaculture Tour
Date: February 9, 2023
Time: 1 pm
Max: 12 People – Registration required – pattileclerc@gmail.com
Duration: 2 hours
Difficulty: Easy
Location:1355 Oxford Street, the Steele Ocean Sciences Building, meet inside the entrance. Street parking only there is no guest parking plan accordingly.
**********************************************************************************************
HFN Membership:  Just a friendly reminder that HFN memberships expire at the end of the calendar year. If you have not already                                         done so, please consider renewing your membership.
It should also be noted that Nature Nova Scotia memberships are no longer available via HFN. Should you wish to continue your membership with Nature NS, or join for the first time, please visit: 
https://naturens.ca/join/
---
---