Walks & Talks
About Our Walks and Talks
Our walks are led by specialists or well schooled naturalists, and provide a good way to expand your knowledge of local natural history as well as to mingle with members of the natural history community.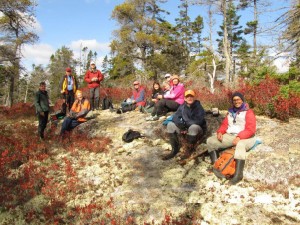 Brad Armstrong and Doug van Hemessen led HFN participants into the Nature Conservancy of Canada's Deep Cove Nature Reserve on Oct 24, 2015.
We usually have one or more walks a month throughout the year. All participants in HFN activities are responsible for their own safety. Always wear suitable clothing and footwear for the weather, the activity, and the terrain. If in doubt, call the contact person listed for each field trip. Note: Due to Covid-19 regulations, only HFN members can currently join our walks.

Our talks are given by both experts and interested amateurs. They provide an opportunity to learn what local scientists, volunteers, and HFN members are up to. Regular meetings with talks are held on the first Thursday of every month except July and August at 7:30 PM in the auditorium of the Nova Scotia Museum of Natural History, 1747 Summer Street, Halifax. Meetings are open to the public. Use the entrance next to the parking lot. There is a charge for parking at the Museum; usually, two hours will be adequate. Currently, meetings are on-line.

Upcoming Events
---
Monthly Meeting – Beneficial Insects – Thursday, October 7
Andrew Hebda, retired Zoologist at the Nova Scotia Museum of Natural History, will give a presentation on Beneficial Insects. All insects are beneficial, but we tend to heap praise on those that give us direct benefit, and scorn on those who compete with us for our resources (we call those pests). Andrew will explore some beneficial ones, who they are, how they make a living and how we benefit from them, and perhaps stray down the path of those we perhaps have put in the latter category, but who are, in fact, doing good for us as well.
This is an on-line meeting. Please register in advance at
https://us02web.zoom.us/meeting/register/tZ0rduyurj0oGNOcyFRN3R1kALTbF5bW4CAL
After registering, you will receive a confirmation email containing information about joining the meeting.
---
Field Trip – Russel Lake (Dartmouth) – Saturday, October 16
Clarence Stevens will lead us on this very popular and easily accessible route. Expected during this walk are various bird species including waterfowl, raptors and songbirds. Non-avian species such as beaver and muskrats are also a possibility, however their lodges will certainly be present. Most of the route is paved  with the remainder being either hard packed dirt or boardwalk. Footing is good, but the trip is scheduled for mid October, so please dress appropriately. For those who may want to continue on their own there is a nice trail that follows the outlet brook on the east side of Eisener Blvd.
Registration is required. Please register with  Bernie McKenna (see below for contact information).
Rain Date: Sunday, Oct 17th
Time/Place: 10:00 a.m., parking opposite Woodlawn Public Library 31 Eisener Blvd. Dartmouth.
                     Note: please park in the parking lot opposite the library instead of the library parking.
Duration: 2 hours
Difficulty: Easy going, as mostly paved with some packed dirt and boardwalk.
---
Field Trip – Jack Pine Barrens (Spryfield) – Saturday, October 30
During late fall, the shrubs on the barrens are transitioning from colourful to bare. Expect to see many of the common shrubs, like Black Huckleberry, Lambkill, and Rhodora, against a backdrop of trees like Jack Pine, Red Maple, and Aspen. We will follow a single track trail over granite ridges and along a few wetlands. – Please register in advance – contact information below.
Rain Date: Sunday, October 31
Contact/Registration: Burkhard Plache, burkhardplache@gmail.com
Time/Place: 2 p.m. at the end of Alabaster Way, at the access point to the McIntosh Run Trail.
Duration: 2-3 hours
Difficulty: Moderate
---
Monthly Meeting – Rare Plants in Nova Scotia – Thursday, November 4
Ever wonder what's hiding in Nova Scotia's forests? The province is home to hundreds of rare plants, most of which you may not have heard of. Although usually unnoticed, these species are locked in a battle for survival and have evolved ingenious tactics to stay ahead. They can grow in freezing temperatures, reject photosynthesis to steal food from other plants and pillage fungi to overcome their invading neighbours. Join Chad Simmons, Ecologist from the Mersey Tobeatic Research Institute, as he explores the wooded world of rare forest plants and showcases their diversity, habitats, and the threats that they face.
The meeting will start at 7:30 p.m.
---
Field Trip – Cole Harbour Heritage Park – November 6
We will explore the wooded trails in the Heritage Park, visiting at the time of year when nature slows down. The trails lead through an early succession forest which is reclaiming former fields, down to the shoreline, and into an area that was not suitable to agriculture and shows a more natural plant community.
Rain Date: Sunday, November 7
Contact/Registration: Bernie McKenna, 902-434-3202, hbmckenna@gmail.com
Time/Place: 2 p.m. at the second parking lot on Bisset Road, some 3 km in from Cole Harbour Road.
Duration: 2-3 hours
Difficulty: Moderate
---
Monthly Meeting – Thursday, December 2
Details to be announced.
---