Rally to protect Hartlan Point Saturday Nov 26, 2022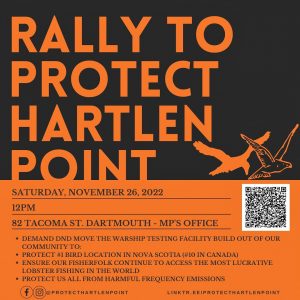 UPDATE: VIEW CBC: Concerns raised over plans to build warship testing facility at Hartlen Point (NOV 23, 2022)
Hartlen Point in Eastern Passage "is regarded as one of the best mainland migrant traps in Nova Scotia comprised of open areas, fairways of the golf course, mud flats, spruce thickets, cobble and kelp-covered beaches, cattail marshes, ponds, bogs and alders that are used as breeding areas for some and a magnet for migrant songbirds to rest and forage. Over 250 species of birds have been documented here." (NS Bird Society).
The ecological integrity of the site is seriously threatened by  a plan to locate a naval training complex on it.
Protect Hartlen Point – A community-organized movement to protect the thriving ecosystem of Hartlen Point and the surroundings – asks people concerned about the site to join a peaceful rally on Saturday Nov 26, 2022 at the office of Darren Fisher, MP for Dartmouth-Cole Harbour,  located at 82 Tacoma Drive, Dartmouth.  
For more background view
– Protect Hartlen Point
Facebook Group.
– @ProtectHartlenPoint
Website

– Canadian Navy wants to build a training complex on beautiful Hartlen Point
Robert Devet in the NS Advocate June 9, 2021

'Protecting a special place': Community concerned about DND project at Hartlen Point
Nicola Seguin for CBC News Apr 23, 2021

– Letter to Minister of Defence
From Sandy Martin, July 25, 2022

Contract awarded to begin design work for Land-Based Testing Facility in Nova Scotia
National Defence News Release January 14, 2022 "On September 30, we awarded a $485,000 contract to PCL Construction of Dartmouth, Nova Scotia, to begin project support and design work on the future LBTF. Work with the contractor to determine the building's specifications will commence in 2022, and the design phase will run until 2023, when construction is expected to begin. We expect this facility will be approximately 9000-m2 across several floors, and will accommodate 120 full-time staff, including members of the Royal Canadian Navy, DND employees, and contractors. Additional infrastructure will be required at CFB Halifax to support the CSC project; further details will be confirmed as the project progresses…Quotes "This project not only helps secure the future of Canadian maritime sovereignty, it also brings jobs and other economic benefits to the Dartmouth region. Investments in Canada's defence infrastructure are felt throughout nearby communities, and help stimulate the economy. By investing in green infrastructure like this facility, we are helping to meet our greenhouse gas reduction targets and build a greener future for all Canadians." – Darren Fisher, Member of Parliament for Dartmouth-Cole Harbour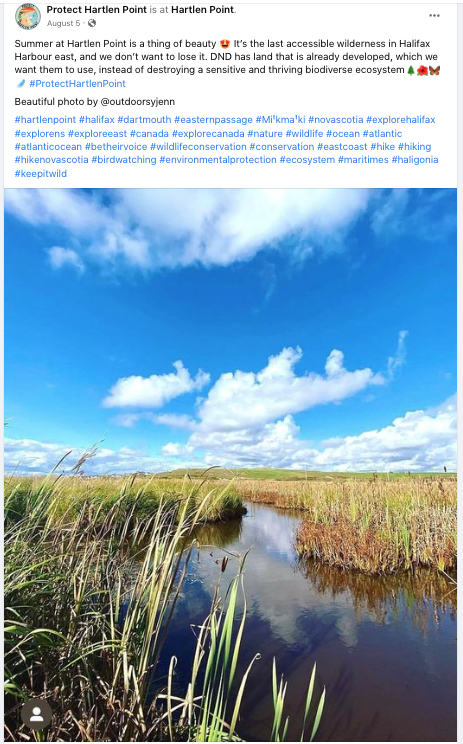 Posted: November 20th, 2022 under Conservation, Events.