Walks & Talks
OUR WALKS are led by specialists or well schooled naturalists, and provide a good way to expand your knowledge of local natural history as well as to mingle with members of the natural history community.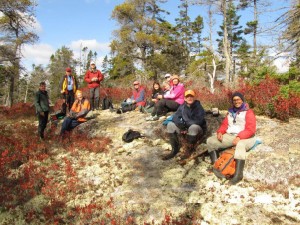 Brad Armstrong and Doug van Hemessen led HFN participants into the Nature Conservancy of Canada's Deep Cove Nature Reserve on Oct 24, 2015.
Click on photo for larger version
We usually have one or more walks a month throughout the year. It may be possible for the contact person (who may or may not be the same as the trip leader) to organize a ride for an event outside the city. If this is possible, a contribution towards the fuel costs would be appropriate. All participants in HFN activities are responsible for their own safety. Always wear suitable clothing and footwear for the weather, the activity, and the terrain. If in doubt, call the contact person listed for each field trip.
OUR TALKS are given by both experts and interested amateurs – one every month except during the summer. They provide an opportunity to learn what local scientists, volunteers, and HFN members are up to. Regular meetings with talks are held on the first Thursday of every month except July and August at 7:30 PM in the auditorium of the Nova Scotia Museum of Natural History, 1747 Summer Street, Halifax. Meetings are open to the public. Use the entrance next to the parking lot. There is a charge for parking at the Museum; usually, two hours will be adequate.
Thursday June 1, 2017: Forestry in Nova Scotia
"What's Happening to Nova Scotia Forests?", asks wildlife biologist Bob Bancroft. Many natural Acadian forest trees can live for centuries, but in the twenty-five years leading up to 2014, 42% of the operable forests in Nova Scotia had been clearcut. Clearcuts are the quickest way for companies to make short-term profits. Clearcutting results in long-term degradation of forest soils, waterways, and diminishing prospects for regenerating forests. For decades the forest industry, with government assistance and the public purse, has been converting complex Acadian forests to boreal-style, simplified forests for fibre production. No valid scientific rationale for doing this exists. Corporate greed is involved. Successive provincial governments of all political stripes have failed to manage public lands in the public interest. Harvests are now re-occurring in anywhere from 20- to 55-year cycles. Wildlife populations and nature have deteriorated along with these degraded NS forests. Bob Bancroft's talk will be illustrated with satellite images, and there will be ample discussion time.
7:30pm at the NSMNH
Sunday, June 4, 2017: Native Bees of Nova Scotia
Canada. As excellent pollinators, over 200 species of bees native to Nova Scotia fill an important ecological role pollinating wild plants and agricultural crops such as apples and blueberries. In Nova Scotia heathlands, bees are important pollinators of the berry-producing plants that feed wildlife. In this talk at Saint Mary's University, Emily Walker will introduce you to some of the diverse native bee pollinators which live in our provincial heathlands, along with the plants which rely on them to set their fruit. She will also discuss some of the unique challenges bees face in this harsh environment. Emily is currently a research associate at Saint Mary's University working with Dr. Jeremy Lundholm in the Ecology of Plants in the Communities Lab. Registration is required. Contact Keith Vaughan, k.vaughan@ns.sympatico.ca. This talk is a partnership event between HFN and the SMU Faculty Retirees Association (SMURA). Enter the McNally building from the front entrance on Robie Street and then follow the signs.
McNally Main Bldg, Room 201, 2:30 p.m.
Tuesday June 6, 2017: Bayer's Lake Woodland Trail
Join HFN and NSWFS (the N.S. Wild Flora Society) for a late spring walk in Bayer's Lake on this hidden treasure of a trail often overlooked in the middle of a busy industrial park. Long-time member and past president of NSWFS Heather Marchione will identify woodland plants and lakeshore shrubs for us. Please bring along field guides and binoculars. There is a limit of 10 participants so register early.
Rain Date: Thursday, June 8
Contact: Carol Klar, cklar@bellaliant.net, or 443-3385.
Time/place: 2:00 p.m. at the trailhead across from Clark's Transport, 68 Horseshoe Lake Drive, Bayer's Lake Industrial Park. Cars may have to park at Access Nova Scotia, as the trailhead parking is limited to three or four cars.
Duration: 1 and 1/2 hours
Difficulty: Easy
Saturday, July 8, 2017: McCormack's Beach Butterflies
Join us as we visit some of the best butterfly locations in Dartmouth! Some of the habitat visited will be wet meadows, so water resistant footwear may be needed depending on weather. Targeted species include the Harvester, Bog Copper, Least Skipper, Northern Pearly-Eye, Banded Hairstreak, Northern Blue, Silvery Blue, Eyed Brown, Harris's Checkerspot, and others. Clarence Stevens, a long time field naturalist, will be leading this tour. Binoculars are suggested for the best viewing of these winged wonders. Limited to 20 participants; registration is required.
Contact: Bethany Nordstrom, bethany.nordstrom@dal.ca, or 1-506-260-1197.
Time/place: 12:00 p.m. at McCormack's Beach Provincial Park (adjacent to the popular Fisherman's Cove in Eastern Passage).
Duration: 2 hours
Difficulty: Easy to moderate
Sat/Sun July 15/16, 2017: Parrsboro Adventure
John Brownlie, a naturalist for Parks Canada for over 29 years, and Randy Corcoran, an artist and guide for the Fundy Geological Museum, will lead a weekend field trip to the Parrsboro area in mid-July. This excursion to the Bay of Fundy will focus on three different habitats in this region of Nova Scotia: 1) The Minas Channel where the first tidal turbine was connected to the grid last November. 2) A kettle bog-pond teeming with dragonflies, damselflies and interesting bog butterflies. 3) A productive lake where we can investigate lakeshore ecology and the interconnections amongst the inhabitants that live there.
Detailed Schedule:
Friday July 14th
7 to 9 pm : Social Meet and Greet -  at the Fundy Geological Museum
Orientation to the weekend of events
Light snacks provided
Saturday July 15th
9:30 to 11: Why Fishermen Oppose Tidal Energy Development
Meet at the Fundy Geological Museum
Travel 3 km to Partridge Island where local fishermen are tending their weir at low tide, to hear their concerns.
Bald Eagles perch on nearby cliffs hoping for a fish snack
We may see lumpfish, sea ravens, flounder, eels, squid, skate
11 to 12:30: How Fundy Fish Respond to Tidal Turbines
Drive 8 km to the FORCE visitor centre to discuss the effects of turbine(s) on marine mammals, fish, seabirds and lobsters
View the exhibits and videos explaining tidal development at this site
12:30 to 2:30: LUNCH
2:30 to 4:00: Kettle Bog-Pond
Meet at the Fundy Geological Museum
Drive 15 km westwards to a pair of kettle bogs with ponds
Northern Blue and Bog Copper butterflies will be on the wing
Dragonflies and damselflies will be super-abundant; they will be mating, defending territories and laying eggs in the pond
Last year we had two blue-coloured Green Frogs at this pond
This bog is under severe pressure from surrounding blueberry fields while a sister kettle bog and pond nearby seems to have escaped this conflict so far. Is there a way to protect this second bog?
5 to 7: SUPPER
8 to 9: Randy Corcoran's Carvings
Meet at the Fundy Geological Museum
Drive to Randy's log-cabin home 4 km south of Parrsboro, near Partridge Island, to see a display of his carvings and folk art
9 to 10: Storytelling Around the Campfire
On the beach at Randy's, members of the Parrsborough Shore Historical Society will thrill us with tales of rum-running and legendary ship captains from the area
Those so inclined are welcome to camp overnight on this beach
10 to 11: Mid-July Moths
Sunset is at 9 o'clock and the moon will not rise until midnight
I will set up a light to attract moths at my house (John's house) at 9:30
Anyone interested in moths can stop and have a look on their way to bed
We may still get one or two of the giant silkworm moths as well as some sphinx moths, and a plethora of smaller but no less interesting moths when seen close up.
Sunday July 16th
9 to 12: There are two concurrent events, both beginning from the Fundy Geological Museum.
A) Zodiac Excursion on the Bay of Fundy
Cost for the trip: about $45
Maximum number of participants : 6
Drive to Partridge Island to board the Explorer I
Randy will take us to Cape Blomidon to search for gemstones, and then to Cape Split to experience the power of the tides in a safe way
B) Lakeshore Ecology at Newville Lake
Drive 15 km north of Parrsboro to Newville Lake
Damselflies are emerging from the water on the very same stems of rushes that are used by a variety of hungry and patient spiders
Bullfrogs line the lakeshore eating anything that moves, but where are the Green Frogs?
Leeches are abundant as are the many schools of fish, what are those leeches sucking on?
Mussel beds are abundant in this lake, and the large number of empty, opened shells on the lakeshore indicate that someone is feasting regularly!
Lakeshore plants also provide a great deal of interest for the botanist
Registration for this field trip is required. Please contact Keith Vaughan at 902-445-9887 or at k.vaughan@ns.sympatico.ca. Details of accommodation arrangements, packing lists and local attractions will be given upon registration.