Walks & Talks
OUR WALKS are led by specialists or well schooled naturalists, and provide a good way to expand your knowledge of local natural history as well as to mingle with members of the natural history community.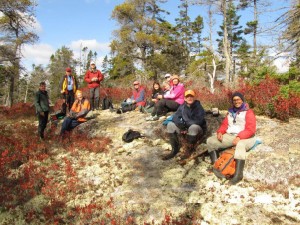 Brad Armstrong and Doug van Hemessen led HFN participants into the Nature Conservancy of Canada's Deep Cove Nature Reserve on Oct 24, 2015.
We usually have one or more walks a month throughout the year. It may be possible for the contact person (who may or may not be the same as the trip leader) to organize a ride for an event outside the city. If this is possible, a contribution towards the fuel costs would be appropriate. All participants in HFN activities are responsible for their own safety. Always wear suitable clothing and footwear for the weather, the activity, and the terrain. If in doubt, call the contact person listed for each field trip
OUR TALKS are given by both experts and interested amateurs – one every month except during the summer. They provide an opportunity to learn what local scientists, volunteers, and HFN members are up to. Regular meetings with talks are held on the first Thursday of every month except July and August at 7:30 PM in the auditorium of the Nova Scotia Museum of Natural History, 1747 Summer Street, Halifax. Meetings are open to the public. Use the entrance next to the parking lot. There is a charge for parking at the Museum; usually, two hours will be adequate.
| | |
| --- | --- |
| Hike at Susie Lake Rescheduled for Sat., Jan 25 | SAT, Jan 11 2020 |
Susie Lake offers year-round opportunities to explore the outdoors. We will decide on the type of outing depending on the weather conditions. If there is solid ice, we will hike across parts of the lake. Please register to be kept informed regarding the rescheduled date and the type of outing.
Storm Date: None.
Contact: Burkhard Plache, 902-475-1129, burkhardplache@gmail.com
Time/Place: 1 p.m. Meet in the Bayers Lake Industrial Park, on the parking lot between Tim Hortons and Staples, near Kent Building Supplies.
Duration: 2-3 hrs.
Difficulty: Moderate, depending on trail conditions (possibly icy).

| | |
| --- | --- |
| Winter Sewer Stroll Rescheduled for Sat., Feb 1; with rain date Sun, Feb 2 | Sunday, Jan 19 2020 |
Join us on this popular winter adventure as birding expert Fulton Lavender takes us to some of the top winter birdwatching sites in HRM to see a wide variety of water loving species as well as a selection of rare land birds.
Storm Date: Sunday, Jan. 26
Contact: Clarence Stevens, 864-0802/488-0521, or via our HFN Facebook Page.
Time/Place: 8:00 a.m., Sullivan's Pond, Dartmouth (at the parking lot at the end of Nowlan Street off Prince Albert Road.)
Duration: 4 hours.
Difficulty: Medium, with short walks on groomed trails or sidewalks. However, ice and/or snow may be present.

| | |
| --- | --- |
| Nova Scotia Turtles Due to the weather, the presenter cannot give the plannted talk. Instead, HFN member Ron Arsenault will give a presentation on the topic of Frogs. | Thursday, Feb 6, 2020 |
Retired long-serving biologist with the NSMNH, Andrew Hebda will present a talk on native Nova Scotia Turtles. Turtles seem to have a special appeal to all of us; large or small they are completely captivating. As well as our four species of Freshwater Turtles, Andrew will also cover the Marine Turtles which find their way into our coastal ocean waters. Very well-versed in the topic, he will cover their habitat, identification, reproduction, and all the other different types of hazards and factors which affect each, including our deleterious human impacts.
7:30 p.m. at the NSMNH (lower entrance)

| | |
| --- | --- |
| Saint Mary's MP-SpARC Lab | Saturday, Feb 8, 2020 |
Greg Baker from the Maritime Provinces Spatial Analysis Research Centre (MP-SpARC) at Saint Mary's University will exhibit technology used at the Centre for environmental monitoring, including high-accuracy global navigation satellite system receivers, remotely piloted aircraft equipped with high-resolution and multi-spectral cameras, and remote sensing and geographic information systems data and software. Greg will demonstrate how these tools can be used to analyse and monitor natural and restored forests and wetlands, and give an overview over some of the mapping efforts the Centre conducted.
Storm Date: None
Contact: Burkhard Plache, 902-475-1129, burkhardplache@gmail.com.
Time/Place: 2:00 p.m. at Saint Mary's University's Burke Building, 5932 Inglis Street, Room 205.
Duration: 1.5 hours
Difficulty: None; indoors

| | |
| --- | --- |
| Annual General Meeting & Members' Photo Night | Thursday, Mar 5, 2020 |
Our Annual General Meeting takes place first, with reports on HFN's activities over the past 12 months followed by the next Board of Directors election. Then – 'It's 'Showtime!' – when we'll view and hear about a variety of members' own photos. If you are an HFN member and would like to share some of your favourite nature-oriented and/or vacation digital images, but are reluctant to give an extensive talk, this is your chance to give an eight-to-ten-minute mini-presentation. Six presenters can be accommodated on a first-come-first-served basis, with up to three first-time presenters having priority. If interested, please contact Peter Webster, peter.webster100@gmail.com, 902-453-9244, by February 24th.
7:30 p.m. at the NSMNH (lower entrance)

| | |
| --- | --- |
| Hope For Wildlife (Adults only) | Saturday, Mar 7, 2020 |
Follow a staff member around the grounds of Hope for Wildlife. We'll visit the Education Centre building which, among other animals, holds their reptiles, including snakes and turtles. We'll also see those animals that are usually in the Pavilion building, but are always moved for the winter from there into the Centre building for the winter such as the Bearded Dragon, Corn Snake, Ball Python, parrot, tortoises, Sugar Gliders, and the inhabitants of the saltwater tank. Afterwards, it's outside to see up close the various animals in care and listen to their stories of how they arrived at Hope for Wildlife. Participants are asked to bring a gas card donation and/or a food donation such as eggs, loose lettuce, frozen fruit, or root vegetables (no potatoes!) to support the work of this excellent charity. Registration is required; there is a limit of 15 people.
Storm Date: Sunday, March 8
Contact: Denyse Contrasty, 902-478-1706, dpc.hfn@yahoo.com.
Time/Place: 1:30 p.m. at Hope for Wildlife, 5909 Hwy 207, Seaforth, Head of Chezzetcook.
Duration: 2 hours
Difficulty: Easy, but dress to stand around outside in wintery weather for about an hour.

| | |
| --- | --- |
| Blue Beach Fossil Museum Cancelled | Thursday, Apr 2, 2020 |
Chris Mansky will give a talk about the Blue Beach Fossil Museum (BBFM) and area, providing an in depth and personal perspective of it and its beach. He and his partner Sonja Wood have owned and operated the BBFM since its inception in 2002. This museum of 1800 sq. ft. is literally full and overflowing with items they have recovered and/or rescued over the years. First studied by scientists in the early 1800's, Blue Beach has been recognised as world class and is renowned for its extreme fossil richness. Scientific community interest continues to this day and it is often visited by researchers who wish to further expand their knowledge. Chris and Sonja host tens of thousands of visitors yearly and expect to hit 40,000 or so this year. Blue Beach is a truly unique and valuable resource to have so close at hand.
7:30 p.m. at the NSMNH (lower entrance)

| | |
| --- | --- |
| Birding with Diane LeBlanc Cancelled | Saturday, Apr 18, 2020 |
For several years now at Crystal Crescent Provincial Park, Diane has observed over 125 species of birds. She will lead us along its established gravel, boardwalk, and forest paths for the excellent birding afforded during early migration. We can expect Loons, Red-breasted Mergansers, various Scoters, and Harlequin Ducks; birds of prey, such as Bald Eagle, Northern Harrier, or Merlin; Chickadees (the Black-capped far outnumber their Boreal cousins); one or more foraging sparrow species; and the odd shorebird or warbler. It's possible to spend two hours here and observe only a few gulls, but it provides beautiful ocean and beach views. Our route will include Cootes Cove (1st and 2nd Beach) and Mackerel Cove (3rd Beach). Although commonly colder and windier than even a kilometre inland, the walk can be warming, so dress in layers with warm and comfortable footwear. There is a maximum of 20 participants; please register in advance. The gate to the park will be closed so the walk will begin at the drive to the beach.
Rain Date: Saturday Apr. 25
Contact: Carol Klar, cklar@bellaliant.net.
Time/Place: 9:00 a.m. at the entrance to Pennant Point Trail, Crystal Crescent, Sambro.
Duration: 2 hours
Difficulty: Moderate; there are a few stairs and hills but the paths are well trodden.