Walks & Talks
OUR WALKS are led by specialists or well schooled naturalists, and provide a good way to expand your knowledge of local natural history as well as to mingle with members of the natural history community.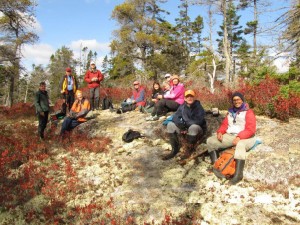 Brad Armstrong and Doug van Hemessen led HFN participants into the Nature Conservancy of Canada's Deep Cove Nature Reserve on Oct 24, 2015.
Click on photo for larger version
We usually have one or more walks a month throughout the year. It may be possible for the contact person (who may or may not be the same as the trip leader) to organize a ride for an event outside the city. If this is possible, a contribution towards the fuel costs would be appropriate. All participants in HFN activities are responsible for their own safety. Always wear suitable clothing and footwear for the weather, the activity, and the terrain. If in doubt, call the contact person listed for each field trip
OUR TALKS are given by both experts and interested amateurs – one every month except during the summer. They provide an opportunity to learn what local scientists, volunteers, and HFN members are up to. Regular meetings with talks are held on the first Thursday of every month except July and August at 7:30 PM in the auditorium of the Nova Scotia Museum of Natural History, 1747 Summer Street, Halifax. Meetings are open to the public. Use the entrance next to the parking lot. There is a charge for parking at the Museum; usually, two hours will be adequate.
| | |
| --- | --- |
| TALK: KELP ECOSYSTEM DYNAMICS OFF NOVA SCOTIA | THURS, SEP 5 |
Kelps are large brown seaweeds that form extensive beds (or forests) from the intertidal zone to depths of 30 m on rocky reefs in temperate and polar regions worldwide. Kelps play a key ecological role in providing food and habitat to myriad fish and invertebrates, including many commercially important ones such as cod, sea urchins and lobster. Drifting kelp fragments and dislodged plants also fuel productivity of adjacent marine communities in deeper water and on beaches. Robert (Bob) Scheibling, a Killam Professor of Biology at Dalhousie, will provide an overview of his academic career studying kelp ecosystem dynamics in Nova Scotia. Historically this ecosystem alternated between two community states: luxuriant kelp beds and urchin-dominated "barrens" denuded of seaweeds. More recently, recurrent outbreaks of disease have effectively eliminated urchins on shallow reefs and an invasive epiphyte has had similar consequences for kelps. Persistent beds of turf-forming and invasive seaweeds now dominate many coastal areas. Join Dr. Scheibling as he muses about the social and economic factors that motivated and steered research on this system over the last half century and the changing tide of human impacts that drive changes in ecosystem state.
7:30pm Nova Scotia Museum of Natural History (lower entrance).

| | |
| --- | --- |
| NOEL SHORE WALK – Avondale West Hants | SATURDAY SEPT. 7 |
Fundy tides reveal magnificent geological exposures. Along the Noel Shore these are eclipsed by the shadow of the more famous Joggins Fossil Cliffs and Parrsboro Shore, but – they're more readily accessible, providing fascinating evidence for Nova Scotia's plate-tectonics 360 to 200 million years ago. Led by Geological Survey of Canada's geologist Rob Fensome, sites will include Rainy Cove, one of the most exciting geological field stops in Canada (all stops will mostly involve easy to moderate beach walks). Public washroom facilities are available at Newport Landing/Walton Lighthouse, but otherwise absent in the area. Bring sturdy ankle-supporting footwear, clothing appropriate for the weather, sun screen, bug spray, and lunch. Maximum of 24 participants; you must register by August 15th.
Rain Date: Sunday, September 8th
Contact: Richard Beazley, rbeazley@dal.ca, 429-6626
Time/Place: Meeting time TBA after August 15th, in Newport Landing Lighthouse's parking lot, Avondale.
Duration: All day. The drive to Newport Landing is about one hour from Metro Halifax
Difficulty: Easy to Moderate; beaches are mostly level but some may have bouldery stretches
| | |
| --- | --- |
| MELMERBY WEEKEND – Northumberland Strait | FRI.-SUN., SEPT. 6-8 |
Stephanie and Allan Robertson will host HFN members at their cottages beside Melmerby Beach Provincial Park on the Northumberland Strait, the warmest waters north of the Carolinas. There will be swimming, beach-combing, canoeing/kayaking, hiking, birding, and star watching – all weather-dependant. An informal weekend, flora/fauna knowledge will be shared by participants at any 'on-site-arranged' walks which may take place. Early morning sightings of Great Blue Heron, Snowshoe Hare, and White-tailed Deer can be expected; also Chipmunk, Skunk, Groundhog, and many birds. Registration is required – twelve participants for inside accommodation, with room for one tent. Potluck meals and other details will be finalised closer to the event. Bring sunscreen, hats, insect repellant, and clothing suitable for changeable weather and beach activities.
Rain Date: Friday-Sunday, September 13th-15th
Contact: Stephanie/Allan Robertson, 902-422-6326, allanrobertson666@gmail.com
Time/Place: Friday, anytime after lunch, 27 Old Sand Road, off Hwy 289 (Little Harbour Road). Melmerby is a two-hour drive from Halifax.
Duration: Two days and two nights
Difficulty: Easy
| | |
| --- | --- |
| MUSHROOMS Pre-WALK TALK | THURSDAY, OCT. 3 |
John Crabtree will share his knowledge of our many local mushroom species. John is a founding member and past director of the Nova Scotia Mycological Society, and often is called upon by organisations (including the Nature Conservancy of Canada, the Ecology Action Centre, and the NS Nature Trust) as the the local mushroom 'expert' for guided walks, presentations, and bioblitz's. This presentation will be followed up by a guided mushroom walk with John on Friday, Oct. 4th.
7:30 p.m. at the NSMNH
| | |
| --- | --- |
| MUSHROOM WALK – Kearny Lake HRM | FRIDAY, OCT. 4 |
Join John Crabtree for a walk full of mushroom spotting & identification. John developed an interest in mushrooms over 35 years ago and has a particular interest in their relationship with higher plants. John is a founding member of the Nova Scotia Mycological Society which was formed in 2009, and has acted as the local mushroom 'expert' on bioblitz's and mushroom forays for many organisations around Nova Scotia. Registration is required; this trip is limited to 20 people.
Rain Date: Saturday, Oct. 5th
Contact: Carol Klar, 902-443-3385, cklar@bellaliant.net
Time/Place: 11:00 a.m. at the Maskwa Aquatic Club, Kearney Lake, 91 Saskatoon Drive, Halifax. There is a trail that iadjacent to the Maskwa Aquatic Club, and a sizeable parking lot. We will meet at the parking lot.
Duration: 2 hours
Difficulty: Easy; but lots of exposed rocks