Walks & Talks
OUR WALKS are led by specialists or well schooled naturalists, and provide a good way to expand your knowledge of local natural history as well as to mingle with members of the natural history community.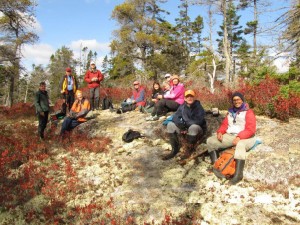 Brad Armstrong and Doug van Hemessen led HFN participants into the Nature Conservancy of Canada's Deep Cove Nature Reserve on Oct 24, 2015.
Click on photo for larger version
We usually have one or more walks a month throughout the year. It may be possible for the contact person (who may or may not be the same as the trip leader) to organize a ride for an event outside the city. If this is possible, a contribution towards the fuel costs would be appropriate. All participants in HFN activities are responsible for their own safety. Always wear suitable clothing and footwear for the weather, the activity, and the terrain. If in doubt, call the contact person listed for each field trip.
OUR TALKS are given by both experts and interested amateurs – one every month except during the summer. They provide an opportunity to learn what local scientists, volunteers, and HFN members are up to. Regular meetings with talks are held on the first Thursday of every month except July and August at 7:30 PM in the auditorium of the Nova Scotia Museum of Natural History, 1747 Summer Street, Halifax. Meetings are open to the public. Use the entrance next to the parking lot. There is a charge for parking at the Museum; usually, two hours will be adequate.
FORESTS IN HRM WALK, SUN JUNE 10th, 2018
Let's walk the talk with Peter Duinker, our June speaker, who will take us to see an old growth hemlock forest in the HRM area.
Contact: Denyse Contrasty, dcontrasty@yahoo.com
Time/Place: 2:00 p.m. (note: change of meeting place) at the Comfort Inn at 560 Bedford Highway. Please use the parking lot on the north side.
Duration: 2 hours
Difficulty: Moderate
Rain Date: Sun June 17th
BOG WALK, SATURDAY JUNE 23, 2018
The Drysdale Bog in Goodwood is a fairly large bog close to the city. It is a raised bog, fed by rain, that drains into surrounding streams. We will walk over a HRM water pipeline right of way to get to the bog, and may then continue to Big Indian Lake. This spring walk is a follow up to our walk to the bog last February, and should permit exploring the area without getting our feet wet while showcasing spring flora.
Contact: Burkhard Plache, burkhardplache@gmail.com, 475-1129
Time: 1 pm
Duration: 2 hours
Location: Meet at the turn off of Hwy 333 into the Halifax Exhibition Parking lot (at 200 Prospect Road)
Difficulty: 5-6 km (in and out) over a narrow wood road.
BROOK TRAIL WALK, SATURDAY JULY 7, 2018
Join with HFN member Ron Cosper for a woodland walk on the Bell Brook trail in Dartmouth, Nova Scotia. Bell Brook runs from Bell Lake to Morris Lake, but the Bell Brook trail does not go all the way to Bell Lake. The trail follows the brook uphill from Morris Lake, crosses Bell Brook Crescent twice and ends up in back of Finbar's pub. The walk will start at the first crossing of Bell Brook Crescent (at the corner of Bell Brook Crescent and Pebble Creek Crescent), head up stream to the second crossing, then go back down. Those who want to extend the hike can continue down hill to Morris Lake, and those who have had enough can stop when they get back to their cars. We will observe the plants and wildlife along the way.Registration required.
Rain date: Saturday 14th July, 2018
Contact: Keith Vaughan, k.vaughan@ns.sympatico.ca
Time/place: 1 pm at the corner of Bell Brook Crescent and Pebble Creek Crescent in Dartmouth. To get there, head out of Dartmouth on Portland Street in the direction of Cole Harbour. Turn right at the traffic light onto Portland Estates blvd. Drive 0.8km to the stop sign and turn left onto Portland Hills drive. Go about 1 km and turn right onto Bell Brook crescent. Continue on for a further 0.4km and turn right onto Pebble Creek crescent; park on Pebble Creek crescent. The group will gather at the small park at the corner of Bell Brook crescent and Pebble Creek crescent.
Duration: 1 to 2 hours.
Difficulty: Easy to moderate