Walks & Talks
OUR WALKS are led by specialists or well schooled naturalists, and provide a good way to expand your knowledge of local natural history as well as to mingle with members of the natural history community.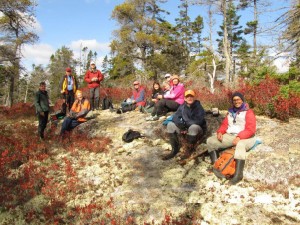 Brad Armstrong and Doug van Hemessen led HFN participants into the Nature Conservancy of Canada's Deep Cove Nature Reserve on Oct 24, 2015.
Click on photo for larger version
We usually have one or more walks a month throughout the year. It may be possible for the contact person (who may or may not be the same as the trip leader) to organize a ride for an event outside the city. If this is possible, a contribution towards the fuel costs would be appropriate. All participants in HFN activities are responsible for their own safety. Always wear suitable clothing and footwear for the weather, the activity, and the terrain. If in doubt, call the contact person listed for each field trip.
OUR TALKS are given by both experts and interested amateurs – one every month except during the summer. They provide an opportunity to learn what local scientists, volunteers, and HFN members are up to. Regular meetings with talks are held on the first Thursday of every month except July and August at 7:30 PM in the auditorium of the Nova Scotia Museum of Natural History, 1747 Summer Street, Halifax. Meetings are open to the public. Use the entrance next to the parking lot. There is a charge for parking at the Museum; usually, two hours will be adequate.
MINDSHIFT PERFORMANCE & HOLIDAY SPECIAL                    THURS, DEC 6th
MindShift is a powerful, youth-led, interactive performance that aims to educate people of all ages about sustainability and personal environmental action. Originally created in 2007-08 by a team of seven high school students working with the HRM Adventure Earth Centre, MindShift has now grown into an award-winning program, performed for conferences, highschools, and decision-makers all across Halifax and Nova Scotia. It will take you on a journey through the galaxy from 1980 through to 2030, examining our environmental choices along the way. 7:30pm at the NSMNH
Holiday Social
Our annual members' Holiday Social will take place after the above talk. Please bring your sweets or savories and non-alcoholic beverages to the usual meeting area. A subscription to the Halifax Field Naturalist would also make a good holiday gift! Bring your money or a cheque. Please note – there are no facilities for heating food.
SNOWSHOEING AT SHUBIE PARK                                        SAT, JAN 12th
Nova Scotia's winter can sometimes make it hard for us to get outdoors, but come join us for some much needed outdoor time, and to learn about how snowshoes can be used to make winter hikes easier and more fun! During this event, led by staff from the Adventure Earth Centre, we will learn how to properly use snowshoes and test them out on a walk around the beautiful forested trails of Shubie Park. We will also learn some tips and tricks about how to properly prepare, pack and dress for outdoor winter activities and excursions. No previous experience with snowshoes necessary, snowshoes will be provided, although participants may bring their own if they wish. Registration is required for this event.
Contact: Molly LeBlanc, molly.e.leblanc@gmail.com
Time: 1-3pm
Location: Shubie Park, Fairbanks Centre. 54 Locks Rd, Dartmouth, B2X 2M1.
Rain/No-Snow Date: Saturday, January 26th
THREE UNIQUE HABITATS                                              THURS, JAN 3rd
Bob Kennedy, a member of the Nova Scotia Wild Flora Society, will be presenting photos of three unique habitats that he visited with fellow plant enthusiasts in the last year. Albert Mines, NB is a unique Arctic ecosystem buried in the middle of a deciduous forest. Several arctic plants growing there (e.g., Entire-leaf Mountain Avens (Dryas integrifolia), Myrtle-leaved Willow (Salix myrtillifolia) are found nowhere else in the Maritimes. Cape Breton is home to a number if unique ecosystems, from barrens to bogs to protected valleys, where several orchids and other unique plants can be found. Shingle Lake in south-western Nova Scotia is known to host a number of Atlantic Coastal Plain Flora species, and is also the site of the only known colony of the small mint, Blue Curls (Trichostema dichotomum). Bob will briefly recount his experiences finding and visiting these sites and present many pictures.
MILL COVE WASTEWATER TREATMENT FACILITY                       TUES, JAN 15th
What makes dirty water clean again? Come to the wastewater treatment facility and discover how this is accomplished. Join Nigel Crouse, the supervisor of Atlantic Canada's largest wastewater treatment facility, who will be conducting this tour. This facility serves appropriately 55,000 people, covering Beaverbank Road to Sackville, Bedford, Hammonds Plains Road to Kearney Lake Road and the Bedford Highway to Bedford. Dress appropriately as part of the tour will be outside.
Storm Date: Thursday, Jan. 17th
Contact: Susan Moxon, samoxon77@gmail.com, 902-461-1303
Time/Place: 10:30am, 205 Waterfront Drive, Bedford (near Dewolfe Park)
Duration: 1.5 – 2 hours
Difficulty: Easy but may be cold