Walks & Talks
OUR WALKS are led by specialists or well schooled naturalists, and provide a good way to expand your knowledge of local natural history as well as to mingle with members of the natural history community.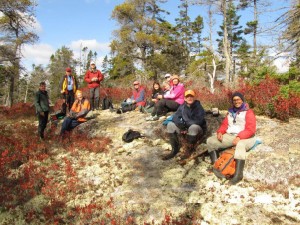 Brad Armstrong and Doug van Hemessen led HFN participants into the Nature Conservancy of Canada's Deep Cove Nature Reserve on Oct 24, 2015.
We usually have one or more walks a month throughout the year. It may be possible for the contact person (who may or may not be the same as the trip leader) to organize a ride for an event outside the city. If this is possible, a contribution towards the fuel costs would be appropriate. All participants in HFN activities are responsible for their own safety. Always wear suitable clothing and footwear for the weather, the activity, and the terrain. If in doubt, call the contact person listed for each field trip
OUR TALKS are given by both experts and interested amateurs – one every month except during the summer. They provide an opportunity to learn what local scientists, volunteers, and HFN members are up to. Regular meetings with talks are held on the first Thursday of every month except July and August at 7:30 PM in the auditorium of the Nova Scotia Museum of Natural History, 1747 Summer Street, Halifax. Meetings are open to the public. Use the entrance next to the parking lot. There is a charge for parking at the Museum; usually, two hours will be adequate.
| | |
| --- | --- |
| PURCELL COVE's Rock Quarries | SAT, NOV 23rd |
Much of what is representative of Halifax architecture (e.g. Citadel Hill, Prince of Wales Martello
Tower in Point Pleasant Park, the Town Clock and many buildings on the Dalhousie University campus) was built from granite, dark sandstone and slate extracted from the historic Purcell's Cove Quarries. Mining in the King's (granite) and Queen's (bluestone) down to the wharf below. Geologically, the granite (kin of the South Mountain Batholith) is 380 million years old and the bluestone or ironstone were deposited as sand and silt in a deep ocean 500 million years ago. Join Dr Marcos Zentilli, Professor Emeritus of Earth Sciences at Dalhousie University, on a tour of the rock quarries. Participants will inspect several remains of the infrastructure and artefacts from the quarrying quarries started 270 years ago in 1749 and, taken over by the military, lasted until 1931, when the rubble from a major blast blocked Purcell's Cove Road. Remarkably, it was the site of one of the earliest industrial railroads in Canada, used to transport huge granite blocks from the plateau in the Backlands operation. As well Dr Zentilli will discuss some of the characteristics and origins of the ancient rocks, which make up most of southern Nova Scotia, as well as glacial features of the Backlands. Registration is required; this trip is limited to 25 people.
Rain Date: Sunday November 24th
Contact: Mille MacCormack, 902-445-4522,mille.maccormack@gmail.com
Time/Place: 9:30am starting and ending at the parking lot by the Purcells Cove Social Club (16 Shipside Lane by 2801 Purcell's Cove Road)
Duration: 2 hours
Walking over irregular terrain will be strenuous in parts.

| | |
| --- | --- |
| TALK: BIRDING & HOLIDAY SOCIAL | THURS, DEC 5th |
Jason Dain has been actively birding since about January 2016. He started with a new digital camera taking pictures of birds and other wildlife around his home in Upper Tantallon and has since become an active birder and nature photographer across the province and beyond. Jason works as the Global Product Manager for Trimble Navigation limited. In that role, he works to direct the global product roadmap and works to design GIS Mapping and information management software to assist businesses better manage their natural resources. Jason has used his extensive work travel opportunities to bird around world. Over the next hour he will share some of his experiences and some tips on how to plan a birding trip and birding while travelling.
7:30pm Nova Scotia Museum of Natural History (lower entrance).

Holiday Social
Our annual members' Holiday Social will take place after the above talk. Please bring your sweets or savouries and non-alcoholic beverages to the usual meeting area. A subscription to the Halifax Field Naturalist would also make a good holiday gift! Bring your money or a cheque. Please note – there are no facilities for heating food.
| | |
| --- | --- |
| TALK: NORTH ATLANTIC RIGHT WHALES | THURS, JAN 2 2020 |
Timothy Frazier holds a faculty position at Saint Mary's University in 2009, and his research now focuses on using genetics to improving the understanding and conservation of whales. Whales are some of the most intriguing, yet difficult to study, animals on the planet. Many species have also been heavily exploited by humans, and are now endangered and are a concern for conservation. Because they spend so much of their time underwater, and so much of their behaviour occurs out of sight. Genetic analyses can be particularly useful for revealing otherwise hidden aspects of the lives of these animals and the threats that they face. In this talk Timothy Frazier will give a broad overview of the ways in which genetic analyses can help us understand and conserve whale populations, highlighted by specific case studies from his research program.
7:30pm Nova Scotia Museum of Natural History (lower entrance).

| | |
| --- | --- |
| WALK/SKATE over SUSIE LAKE | SAT, Jan 11 2020 |
Susie Lake offers year-round opportunities to explore the outdoors. We will decide on the type of outing depending on the weather conditions. If the ice is safe to walk on, we may go skating if no snow cover, or cross country skiing, snowshoeing or walking if snow covered. If Susie Lake is open water or covered by thin ice, we will walk a trail along the shoreline. Please register to be kept informed of the type of outing that will be offered on Jan 11th.
Storm Date: Sunday Jan 12th, 1 p.m.
Contact: Burkhard Plache, 902-475-1129, burkhardplache@gmail.com
Time/Place: 1 p.m. Meet in the Bayers Lake Industrial Park, on the parking lot between Tim Hortons and Staples, near Kent Building Supplies.
Duration: 2-3 hrs.
Difficulty: Moderate, depending on trail conditions (possibly icy).