Walks & Talks
Update
When Covid-19 started in Nova Scotia earlier this year, The Halifax Field Naturalists had to cancel all of their activities. Now, with fall approaching, we are planning on resuming activities, always keeping the safety of participants in mind.
We hope to offer a few field trips, and at this point in time, those will be for members only, and limited in numbers to ensure there will be enough room for everybody to stay at a safe distance. Pre-registration is required for all walks. Participants must declare that they are free of Covid-19 related symptoms, and have not been in contact with anybody diagnosed with Covid-19 or traveled outside the Atlantic Bubble within the last 14 days.
Our regular meeting room, the auditorium of the Museum of Natural History, is currently not available. Thus, our monthly meetings are on hold until we have again access to a suitable space.
About Our Walks and Talks
Our walks are led by specialists or well schooled naturalists, and provide a good way to expand your knowledge of local natural history as well as to mingle with members of the natural history community.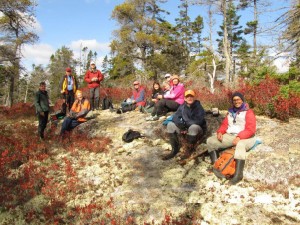 Brad Armstrong and Doug van Hemessen led HFN participants into the Nature Conservancy of Canada's Deep Cove Nature Reserve on Oct 24, 2015.
We usually have one or more walks a month throughout the year. It may be possible for the contact person (who may or may not be the same as the trip leader) to organize a ride for an event outside the city. If this is possible, a contribution towards the fuel costs would be appropriate. All participants in HFN activities are responsible for their own safety. Always wear suitable clothing and footwear for the weather, the activity, and the terrain. If in doubt, call the contact person listed for each field trip
Our talks are given by both experts and interested amateurs – one every month except during the summer. They provide an opportunity to learn what local scientists, volunteers, and HFN members are up to. Regular meetings with talks are held on the first Thursday of every month except July and August at 7:30 PM in the auditorium of the Nova Scotia Museum of Natural History, 1747 Summer Street, Halifax. Meetings are open to the public. Use the entrance next to the parking lot. There is a charge for parking at the Museum; usually, two hours will be adequate.
Upcoming Events
---
Monthly Meeting, Thursday, Sept. 3
There will be no meeting in September.
---
Field Trip, Saturday, Sept. 26
Noel Shore Walk – Avondale West Hants
This event is already fully booked
Fundy tides reveal magnificent geological exposures. Along the Noel Shore these are eclipsed by the shadow of the more famous Joggins Fossil Cliffs and Parrsboro Shore, but – they're more readily accessible, providing fascinating evidence for Nova Scotia's plate-tectonics 360 to 200 million years ago. Led by Geological Survey of Canada's geologist Rob Fensome, sites will include Rainy Cove, one of the most exciting geological field stops in Canada (all stops will mostly involve easy to moderate beach walks). Public washroom facilities are available at Newport Landing/Walton Lighthouse, but otherwise absent in the area. Bring sturdy ankle-supporting footwear, clothing appropriate for the weather, sun screen, bug spray, and lunch.
Contact: Richard Beazley, rbeazley@dal.ca, 429-6626
Time/Place: Meeting time and place will be announced to registrants.
Duration: All day. The drive to Newport Landing is about one hour from Metro Halifax
Difficulty: Easy to Moderate; beaches are mostly level but some may have bouldery stretches
---
Monthly Meeting, Thursday, Oct. 1
There will be no meeting in October.
---
Monthly Meeting, Thursday, Nov. 5
There will be no meeting in November.
---