Walks & Talks
OUR WALKS are led by specialists or well schooled naturalists, and provide a good way to expand your knowledge of local natural history as well as to mingle with members of the natural history community.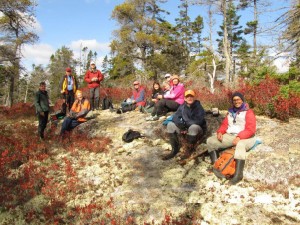 Brad Armstrong and Doug van Hemessen led HFN participants into the Nature Conservancy of Canada's Deep Cove Nature Reserve on Oct 24, 2015.
Click on photo for larger version
We usually have one or more walks a month throughout the year. It may be possible for the contact person (who may or may not be the same as the trip leader) to organize a ride for an event outside the city. If this is possible, a contribution towards the fuel costs would be appropriate. All participants in HFN activities are responsible for their own safety. Always wear suitable clothing and footwear for the weather, the activity, and the terrain. If in doubt, call the contact person listed for each field trip.
OUR TALKS are given by both experts and interested amateurs – one every month except during the summer. They provide an opportunity to learn what local scientists, volunteers, and HFN members are up to. Regular meetings with talks are held on the first Thursday of every month except July and August at 7:30 PM in the auditorium of the Nova Scotia Museum of Natural History, 1747 Summer Street, Halifax. Meetings are open to the public. Use the entrance next to the parking lot. There is a charge for parking at the Museum; usually, two hours will be adequate.
BROOK TRAIL WALK, SATURDAY JULY 7, 2018
Join with HFN member Ron Cosper for a woodland walk on the Bell Brook trail in Dartmouth, Nova Scotia. Bell Brook runs from Bell Lake to Morris Lake, but the Bell Brook trail does not go all the way to Bell Lake. The trail follows the brook uphill from Morris Lake, crosses Bell Brook Crescent twice and ends up in back of Finbar's pub. The walk will start at the first crossing of Bell Brook Crescent (at the corner of Bell Brook Crescent and Pebble Creek Crescent), head up stream to the second crossing, then go back down. Those who want to extend the hike can continue down hill to Morris Lake, and those who have had enough can stop when they get back to their cars. We will observe the plants and wildlife along the way.Registration required.
Rain date: Saturday 14th July, 2018
Contact: Keith Vaughan, k.vaughanATns.sympatico.ca
Time/place: 1 pm at the corner of Bell Brook Crescent and Pebble Creek Crescent in Dartmouth. To get there, head out of Dartmouth on Portland Street in the direction of Cole Harbour. Turn right at the traffic light onto Portland Estates blvd. Drive 0.8km to the stop sign and turn left onto Portland Hills drive. Go about 1 km and turn right onto Bell Brook crescent. Continue on for a further 0.4km and turn right onto Pebble Creek crescent; park on Pebble Creek crescent. The group will gather at the small park at the corner of Bell Brook crescent and Pebble Creek crescent.
Duration: 1 to 2 hours.
Difficulty: Easy to moderate
OLD FORESTS OF SANDY LAKE SAT, JULY 14 2018
Sandy Lake in Bedford is surrounded by drumlins supporting a mixed Acadian forest. While there has been a lot of forestry there in the past, significant patches of old trees remain, some of which qualify as Old Growth according to the DNR protocol.  We will view three such patches dominated respectively by white pine, hemlock and sugar maple/yellow birch. At all three sites there is pronounced "pit and mound" topography which records a long lineage of old growth interrupted by wind disturbance. View http://versicolor.ca/sandylakebedford/  and http://sandylake.org/ for more info about the area and efforts to protect it.
Participants might enjoy a swim in Sandy Lake after the hike, so bring a bathing suit if so. There are changing rooms at Sandy Lake beach.
Rain date: Sunday July 15, 2018
Contact: davidgpatriquinATyahoo.ca Please use "HFN Sandy Lake" in the subject line
Time/place: 1 P.M., at the parking lot at end of Smith Road, off of Hammonds Plains Road
Duration: 2-3 hours.
Difficulty:  Easy
BUTTERFLIES   SAT, AUG 11, 2018
Halifax Field Naturalist presents a butterfly Walk at Fisherman's Cove in Eastern Passage. Some habitat may be wet meadow, so water-resistant footwear may be needed. Binoculars are suggested for the best viewing of these winged wonders. Limited to 20 participants; registration is required.
Rain Date: Sunday, August 12 Duration: 2 hours Difficulty: Easy to moderate
Contact: Susan Moxon,samoxon77@gmail.com, 902-461–1303
Time/Place: 12:00pm at McCormack's Beach Provincial Park (adjacent to Fisherman's Cove)
HISTORICAL GOLD MINES OF NOVA SCOTIA THURS, SEPT. 6, 2018
Gold mining has been an important part of Nova Scotia's history since the mid-1800s. There are currently 64 gold districts, containing hundreds of gold mines, spread across the mainland of the province. Although many of the mines are long-abandoned, a legacy of environmental contamination remains at most sites. Join Molly LeBlanc, M.Sc. student at Saint Mary's University, as she discusses her work studying the contamination left behind at these old gold mines sites, and learn how insects from wetlands nearby can help us better understand the effects on surrounding ecosystems. 7:30 p.m. at the NSMNH
MELMERBY BEACH WEEKEND FRI-SUN, SEPT 7-9, 2018
Stephanie and Allan Robertson will host HFN members at their two cottages adjacent to beautiful Melmerby Beach Provincial Park on the Northumberland Strait, the warmest ocean waters north of the Carolinas.  There will be opportunities for swimming, beach-combing, canoeing/kayaking, hiking, birding, and star watching – all weather-dependant. This will be an informal weekend; flora/fauna knowledge may be shared by participants at any 'on-site-arranged' walks/trips that may take place.  Early morning sightings of Great Blue Heron, Snowshoe Hare, and White-tailed Deer can be expected; also Chipmunk, Red Fox, and many birds. Registration is required; there is a maximum of twelve participants for inside accommodation; there is also room for one tent. Both cottages are fully equipped, and potluck suppers and other food arrangements will be finalised closer to the event. Bring sunscreen, hats, preferred insect repellant, and clothing suitable for changeable weather and beach activities. More details and maps will be available upon registration.  
Contact: Stephanie/Allan Robertson, 902-422-6326, sdhaythorn@ns.sympatico.ca
Rain Date: Friday-Sunday, September 14 – 16th
Time/Place: Anytime after 5:00 p.m. on Friday at 27 Old Sand Road, off Hwy 289 (Little Harbour Road). Melmerby is a 2-hour drive from Halifax.  
Duration: Two days and two nights
Difficulty: Easy
MUSHROOMS THURS, OCT 4th, 2018
John Crabtree as he shares a presentation on his enthusiasm and knowledge of our many local mushroom species. John is a founding member and past director of the Nova Scotia Mycological Society, and often is called upon by organizations (including the Nature Conservancy of Canada, the Ecology Action Centre, and the NS Nature Trust) as the the local mushroom 'expert' for guided walks, presentations and Bioblitz's. This presentation will be followed up by a guided mushroom walk with John on Monday, Oct. 8th. 7:30pm NSMNH.
MUSHROOMS WALK MON, OCT 8th, 2018
Join John Crabtree for a walk full of mushroom spotting & identification. John developed an interest in Mushrooms over 35 years ago and has a particular interest in their relationship with higher plants. John is a founding member of the Nova Scotia Mycological Society which was formed in 2009, and has acted as the local mushroom 'expert' on Bioblitz's and mushroom forays for many organizations around Nova Scotia.
Contact: Carol Klar, 902-443-3385, cklar@bellaliant.net
Rain Date: Wed Oct 10th, 11:00am.
Time/Place: 11:00am. Walk to be held at Maskwa Aquatic Club, 91 Saskatoon Drive, Halifax, B3M 3H8. There is a trail that is adjacent to the Maskwa Aquatic Club and a sizeable parking lot. We will meet at the parking lot.
Duration: 2 hrs.
Difficulty: Easy, lots of exposed rocks.