Walks & Talks
OUR WALKS are led by specialists or well schooled naturalists, and provide a good way to expand your knowledge of local natural history as well as to mingle with members of the natural history community.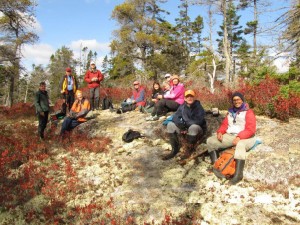 Brad Armstrong and Doug van Hemessen led HFN participants into the Nature Conservancy of Canada's Deep Cove Nature Reserve on Oct 24, 2015.
Click on photo for larger version
We usually have one or more walks a month throughout the year. It may be possible for the contact person (who may or may not be the same as the trip leader) to organize a ride for an event outside the city. If this is possible, a contribution towards the fuel costs would be appropriate. All participants in HFN activities are responsible for their own safety. Always wear suitable clothing and footwear for the weather, the activity, and the terrain. If in doubt, call the contact person listed for each field trip
OUR TALKS are given by both experts and interested amateurs – one every month except during the summer. They provide an opportunity to learn what local scientists, volunteers, and HFN members are up to. Regular meetings with talks are held on the first Thursday of every month except July and August at 7:30 PM in the auditorium of the Nova Scotia Museum of Natural History, 1747 Summer Street, Halifax. Meetings are open to the public. Use the entrance next to the parking lot. There is a charge for parking at the Museum; usually, two hours will be adequate.
| | |
| --- | --- |
| SHUBENACADIE RIVER PADDLE | SAT, JUNE 22 |
The Shubenacadie has a long history for traveling and transportation, for thousands of years for first nations people, and for a brief time as part of the Shubenacadie Canal system. These days, boat traffic is only for recreation. Our paddle will be in the upper and calm section of the river. There will be no portages. We can expect to see a variety of lands along the banks of the river, both forests and pastureland. Please be on time, as we have to arrange car shuttling to the paddle destination near Milford. Note: Participants must bring their own canoe/kayak and all safety gear required.
Rain date: Saturday, June 29
Contact: Dusan Soudek, 902-422-1045, soudekd@ns.sympatico.ca
Time/Place: 10AM at the Bridge of the Elmsdale Road over the Shubenacadie. Take exit 8 on Hwy 102, turn towards Elmsdale. Cross Hwy 2, continue for approx. 1 km.
Difficulty: Moderate.
Duration: 6 hours
| | |
| --- | --- |
| PARRSBORO ADVENTURE | SAT/SUN, JULY 6 & 7 |
'Save the date' for this exciting weekend adventure to Parrsboro with John Brownlie in mid-July. The town of Parrsboro and the valley to the north provide some of the most spectacular glacial scenery in Eastern Canada. The powerful glacial meltwater streams cut into the delta creating at least four terraces at Parrsboro. Huge chunks of glacial ice formed very deep kettle lakes and often left dry kettle holes in the terraces. A terminal moraine reversed the direction of river flow. Parrsboro's great success as a blueberry grower's paradise is due in large part to this glacial retreat that occurred 12,000 years ago. We will explore all of this and more.Details of accommodation arrangements, packing lists and local attractions will be given upon registration, and more details to come. Registration will be required for this trip. Contact John by June 21st to book a spot on a guided boat tour across the Mias Channel to visit Cape Split and along the Blomidon Shore. Fee for boat tour is $50.
Rain date: None
Contact: John Browlie at roxannebrownlie@gmail.com.
Time/Place: Details to come upon registration.
| | |
| --- | --- |
| POINT PLEASANT PARK – A WALK THROUGH TIME | WED, AUG. 7 |
Have you ever wondered what secrets of  landscape and geological history are hidden in the rocks and landforms in the Park? Join Dr. Donohoe (retired Energy and Mines geoscientist) for an walk around Point Pleasant Park and hear an animated description of the landform evolution, the stories in the rocks, and methods of geoscientists.  You will learn about the ancestral Sackville River, the deep canyon of Northwest Arm, glaciation and climate change, the ancient sea floor, and how mountains are made. All of this in in Point Pleasant Park!
Contact: Carol Klar at 902 443 3385 cklar@bellaliant.net
Rain Date: Thursday, 8 Aug.
Time/Place: 6:30pm, Black Rock Beach stone wall at location of former take-out.
Duration: 2 to 2.5 hours for a walk around the perimeter of the park.
Difficulty: Easy, wear comfortable walking shoes; no flip flops please. Bring a jacket for cool winds.