Walks & Talks
OUR WALKS are led by specialists or well schooled naturalists, and provide a good way to expand your knowledge of local natural history as well as to mingle with members of the natural history community.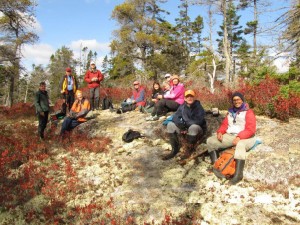 Brad Armstrong and Doug van Hemessen led HFN participants into the Nature Conservancy of Canada's Deep Cove Nature Reserve on Oct 24, 2015.
Click on photo for larger version
We usually have one or more walks a month throughout the year. It may be possible for the contact person (who may or may not be the same as the trip leader) to organize a ride for an event outside the city. If this is possible, a contribution towards the fuel costs would be appropriate. All participants in HFN activities are responsible for their own safety. Always wear suitable clothing and footwear for the weather, the activity, and the terrain. If in doubt, call the contact person listed for each field trip.
OUR TALKS are given by both experts and interested amateurs – one every month except during the summer. They provide an opportunity to learn what local scientists, volunteers, and HFN members are up to. Regular meetings with talks are held on the first Thursday of every month except July and August at 7:30 PM in the auditorium of the Nova Scotia Museum of Natural History, 1747 Summer Street, Halifax. Meetings are open to the public. Use the entrance next to the parking lot. There is a charge for parking at the Museum; usually, two hours will be adequate.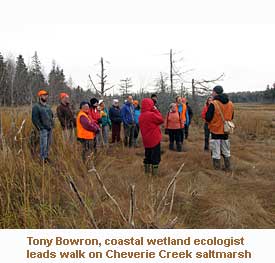 Click on photo for larger version
SATURDAY, AUG. 27, 2016: McNABS ISLAND
**As of now [Aug 10], McNabs Island is closed (due to fire threat) with no access to the beaches, unless you have a DNR permit. If the closure remains in effect by August 28th, the HFN tour may be affected. Participants will be notified if the tour is cancelled, although we are hopeful that this will not be the case!**
Enjoy a ride across the Halifax harbour to McNabs Island, a provincial park since 2002. The Island has numerous hiking trails, historical sites, stunning views of mainland Halifax, wildlife, and natural beauty. Friends of McNabs guides, Brian and Cathy Phelan, will lead us on a tour that will include the site of the Victorian Gardens where several hundred species were planted in the 1880s and many still grow. The tour will also include a hike up Jenkins Hill trail to the highest point on the island. We will walk through an Acadian Forest and at the top get a close up look at the devastation caused by Hurricane Juan from 2003 and how nature has started her own process of remediation. We will have a picnic lunch and depart at 3pm for Halifax and Dartmouth. Bring lunch, water, sunscreen, insect repellant, and walking shoes.
Registration Required: Only 12 participants can be accommodated. Pre-payment of $22 required.
Rain Date: Sunday August 28th. (If both dates cancelled, money will be refunded).
Contact: Denyse Contrasty, 478-1706, dcontrasty@yahoo.com
Time/Place: Depart Water Taxi, 10 :30am, Halifax waterfront (6 people max) OR Depart Water Taxi, 10:30am, King's Wharf Dartmouth (6 people max).
Difficulty: Easy to moderate.
Duration: 4 hours
THURSDAY, SEPT. 1, 2016: WETLANDS TALK WITH KRISTA HILCHEY
Wetlands are an an amazingly diverse and active ecosystem, where water, air and soil all meet. Wade into the Nova Scotia Wetland Policy with Nova Scotia Environment Wetland Specialist, Krista Hilchey. This presentation will cover the rich variety of wetland types in Nova Scotia, and the values and functions they provide. We will also discuss the legislation and regulations that protect Nova Scotia's wetlands. 7:30 p.m. at the NSMNH.

FRIDAY to SUNDAY, SEPT. 9-11, 2016: MELMERBY FALL WEEKEND
Stephanie and Allan Robertson will host HFN members at their two cottages adjacent to beautiful Melmerby Beach Provincial Park on the Northumberland Strait, the warmest ocean waters north of the Carolinas. There will be opportunities for swimming, beachcombing, canoeing/kayaking, sailing, hiking, birding, and star watching – all weather-dependant. This will be an informal weekend; flora/fauna knowledge may be shared by participants at any 'on-site arranged' walks/trips that take place. Early morning sightings of Great Blue Heron, Snowshoe Hare, and White-tailed Deer can be expected; also Chipmunk, Red Fox, Gopher, and many birds. Registration is required; there is a maximum of 12 participants for inside accommodation in beds; couches are also available. There is also room for one tent and one or two camper vans. Both cottages are fully equipped, and potluck suppers and other angements will be finalised closer to the event. Bring sunscreen, hats, insect repellant, and clothing suitable for changing weather and beach activities.
Rain Date: Friday-Sunday, September 16-18
Contact: Stephanie/Allan Robertson, 902-422-6326, sdhaythorn@ns.sympatico.ca.
Time/Place: Anytime after 5:00 p.m. on Friday at 27 Old Sand Road, off Hwy 289 (Little Harbour Road). Maps and directions will be provided upon registration.
Duration: A two-hour drive from Halifax; the stay will be for two days and two nights.
Difficulty: Easy
SATURDAY, SEPT. 24, 2016: BLUFF TRAIL HIKE
David Patriquin and Richmond Campbell will lead a walk along the Pot Lake Loop of the Bluff Trail, stopping to enjoy and discuss the diverse habitats along the way. The trail includes lakeside wetlands, wet spruce forest, mixed Acadian forest, oak forest and broom crowberry barrens. We will have lunch under 100+ year-old red spruce trees above Pot Lake. At that point, participants will have the option of returning (total time 1.5- 2 hours), while others will complete the whole loop (3-4 hours with stops).
Rain date: Sunday, September 25th
Contact: Dave Patriquin, 902-423-5716, patriqui@dal.ca
Time/place: 10 am at the trail car park off Hwy 3, Timberlea. Go along highway 103 from Halifax and take exit 4 (Timberlea). At the end of the exit ramp, turn right back towards Halifax and go about 2 Km until you see the trail head parking area on the right. The car park connects to the rails-to-trails Beachville Lakeside Timberlea trail; proceed west on the RTR until you see the Bluff Trail trailhead on the left where the walk will start. You can also take a bus – see https://wrweo.ca/wp/the-bluff-trail/getting-there/ for more details.
Duration: 2 – 4 hours
Difficulty: Moderate
THURSDAY, OCT. 6, 2016: DETECTING FISHING VESSEL BEHAVIOUR FROM SPACE
The ocean is the least observed part of our planet, and in a time of overexploitation of fish stocks and changing climate, this poses a problem. Fishing vessels seem to disappear behind the horizon until they magically reappear at another port, but what is happening while they are at sea? There is an emerging global movement to protect larger areas of the ocean, but how do we monitor what human activities are happening in and around these protected areas? This talk will explore the relationship between global fisheries and Large Marine Protected Areas (LMPA). Kristina Boerder, a PhD student from Dalhousie University will tell us about her work, where she is making movements of fishing vessels visible (even when they are out of sight!) using satellite technology in ecologically important areas of our world's oceans.
7:30 p.m. at the NSMNH.
SATURDAY, OCT. 15, 2016: LAWRENCETOWN BEACH WALK
The beach marks the interface between land and sea. It is dynamic and ever changing in shape and mood during short burst of waves or over thousands of years. Bob Taylor, a retired coastal geologist with the Geological Survey of Canada, has monitored beach changes in Nova Scotia since the late 1970s. He will reveal how different shorelines adjust naturally to changing environmental conditions and some of their defensive mechanisms to wave and human attack. He will also discuss how different parts of a shoreline are physically connected and how changes along one part impact another. Lawrencetown Beach has been well studied by area scientists and used as a model to describe how glaciated shores have evolved. He will demonstrate which beach changes are important to look for and understand when assessing whether a shoreline is deteriorating or merely shifting its position. A beach walk should be fun and interactive and he is open to answering queries about other shorelines that participants know and love. A beach is merely a collection of material. If beach pebbles could talk, they might reveal to participants where they came from and where they are headed in the near future.
Registration Required: Please call or email to register; only 20 spots available.
Rain Date: Sunday October 16th
Contact: Susan Moxon,902 461 1303, samoxon77@gmail.com
Time/Place: 1:00 PM at Canteen and park office on Lawrencetown Beach
Duration: 1.5 – 2 hours
Difficulty: Walking is easy but may include traversing pebble cobble so good footwear is advisable.