Walks & Talks
OUR WALKS are led by specialists or well schooled naturalists, and provide a good way to expand your knowledge of local natural history as well as to mingle with members of the natural history community.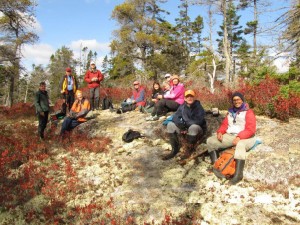 Brad Armstrong and Doug van Hemessen led HFN participants into the Nature Conservancy of Canada's Deep Cove Nature Reserve on Oct 24, 2015.
Click on photo for larger version
We usually have one or more walks a month throughout the year. It may be possible for the contact person (who may or may not be the same as the trip leader) to organize a ride for an event outside the city. If this is possible, a contribution towards the fuel costs would be appropriate. All participants in HFN activities are responsible for their own safety. Always wear suitable clothing and footwear for the weather, the activity, and the terrain. If in doubt, call the contact person listed for each field trip
OUR TALKS are given by both experts and interested amateurs – one every month except during the summer. They provide an opportunity to learn what local scientists, volunteers, and HFN members are up to. Regular meetings with talks are held on the first Thursday of every month except July and August at 7:30 PM in the auditorium of the Nova Scotia Museum of Natural History, 1747 Summer Street, Halifax. Meetings are open to the public. Use the entrance next to the parking lot. There is a charge for parking at the Museum; usually, two hours will be adequate.
MUSEUM OF NATURAL HISTORY TOUR                               MONDAY, FEB. 25
Join museum curator Andrew Hebda, preparator Corey Mullins and communication designer, David Carter, for this exciting tour behind the scenes of the wonderful Nova Scotia Museum of Natural History. The team will provide us with a look into the world of museum curatorial work, exhibit planning, design, and fabrication. We will focus in on the new, permanent, Sable Island exhibit, and also take a side trip over to 'The Gully'. Participants may bring their lunch if they like, for a virtual lunch on Sable Island! Registration is required, spaces limited to 20 participants.
Contact: Molly LeBlanc, molly.e.leblanc@gmail.com.
Time: 10am
Duration: 2 hours
Location: Meet at the entrance to the NS Museum of Natural History (1747 Summer St.)
Difficulty: Easy
 
AGM/HFN MEMBERS PHOTO NIGHT                                   THURSDAY, MAR. 7
The Annual General Meeting takes place first: Reports on HFN's activities over the past 12 months are presented, followed by the election of the next Board of Directors. Then it is 'show time' to view and hear about a variety of members' self-shot photos. If you are an HFN member and would like to share some of your favourite nature-oriented or vacation digital images, but are reluctant to give an extensive talk, this is a chance to give an eight-to-ten-minute mini-presentation. Six presenters can be accommodated on a first-come-first-served basis, with up to three first-time presenters having priority. If interested, please contact Peter Webster ,peter.webster100@gmail.com by February 22. 7:30 p.m. at the Nova Scotia Museum of Natural History (lower entrance).
 
MCINTOSH RUN WINTER PLANT ID                                    SATURDAY, MAR. 9
We will walk the newly built section of the McIntosh Run trail near Western Pine Island Pond. Along the way, we will learn to identify plants that show clear characters before the growing season. While evergreen plants are prime candidates, there are also a number of species that have characteristic buds or bark.
Contact: Burkhard Plache, burkhardplache@gmail.com.
Date/Time: 2 P.M.
Duration: 2-3 hours
Location: The park on Norawarren Dr., near Herring Cove.
Difficulty: Moderate
Rain Date: None
 
THE TARE SHOP: NOVA SCOTIA'S FIRST ZERO WASTE STORE           THURS APR. 4th
The Tare Shop is a local business which just opened up in the North End of Halifax, Fall 2018. Their mission is to help Haligonians reduce their personal waste and invest in sustainable lifestyles. At The Tare Shop, you can grab your coffee, groceries, beauty supplies and more, package-free. Like any great idea, The Tare Shop was born out of a burning need and desire to do better. Founded by Dalhousie alumni Kate Pepler after completing a BA in Sustainability, Environmental Science and a minor in Marine Biology. For a year after completing her degree, she was feeling overwhelmed with the doom and gloom narrative of our Earth's health. This helped her "Eureka!" moment of creating Tare – which combines all of her passions – oceans, reducing plastic pollution, environmental education, and fostering community – into one business. 7:30 p.m. at the Nova Scotia Museum of Natural History (lower entrance).
 
BIRDS AT CRYSTAL CRESCENT BEACH                            SATURDAY, APR. 13
Diane LeBlanc will lead this field trip along established gravel, boardwalk, and forest paths at Crystal Crescent Provincial Park. Diane has been birding the park for several years and has observed over 125 species at this location. April is early migration and an excellent time for birding here – 66 different species have been observed over the past four years (eBird). Long-tailed Ducks, Common Goldeneye, Common Loons, Red-breasted Mergansers, various Scoters, and Harlequin Ducks can often be seen and heard just offshore. One or more birds of prey, such as Bald Eagle, Northern Harrier, or Merlin, may make a brief appearance. Chickadees can be found year-round at the park, though the Black-capped Chickadees far outnumber their Boreal cousins. One or more sparrow species are likely to be foraging on the bushes and beaches and the odd shorebird or warbler may be found passing through at this time of the year. One never knows what one will see outside — it is possible to spend two hours at this location observe only a few gulls, but the walk provides beautiful views of the ocean and beaches. The gate to the park will be closed so the walk will begin at the drive to the beach. The route includes Cootes Cove (1st and 2nd Beach) and Mackerel Cove (3rd Beach).  It is commonly colder and windier at Crystal Crescent than even a kilometre inland and the walk can be warming, so dress in layers with warm and comfortable footwear. There will be a maximum of 20 participants. Please register in advance.
Contact: Diane at dianeleblanc616@gmail.com
Date/Time: 9 A.M.
Duration: 2 hours
Location: Meet at the entrance to Pennant Point Provincial Park in Sambro.
Difficulty: Moderate, there are a few stairs and hills but the paths are well trodden.
Rain Date: None 
WILLIAMS LAKE BACKLANDS WALK AND CLEANUP                                    SAT, APR. 27
In partnership with the Nature Conservancy of Canada (NCC), we are going to visit the backlands behind Williams Lake, exploring a few lesser known trails. The backlands will become a wilderness park managed by the NCC and HRM. On the walk back out, we will come by a former camping site, and take out as much of the garbage left behind. Beside your regular walking gear, please bring a pair of gloves and a bag of a size you are comfortable carrying out for 15 minutes.
Contact: Peter Webster (pwebster@eastlink.ca, 902 453 9244)
Date/Time: 10 A.M.
Duration: 2 hours
Location: Meet at the bus stop on Purcell's Cove Road that is across Melvin Dr. (approx. 5 km from Armdale roundabout). Metro transit route 15 serves the bus stop.
Difficulty: Moderate
Rain Date: None