Walks & Talks
OUR WALKS are led by specialists or well schooled naturalists, and provide a good way to expand your knowledge of local natural history as well as to mingle with members of the natural history community.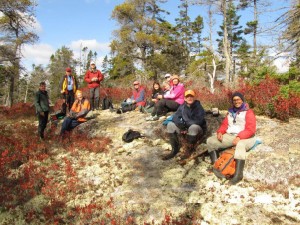 Brad Armstrong and Doug van Hemessen led HFN participants into the Nature Conservancy of Canada's Deep Cove Nature Reserve on Oct 24, 2015.
Click on photo for larger version
We usually have one or more walks a month throughout the year. It may be possible for the contact person (who may or may not be the same as the trip leader) to organize a ride for an event outside the city. If this is possible, a contribution towards the fuel costs would be appropriate. All participants in HFN activities are responsible for their own safety. Always wear suitable clothing and footwear for the weather, the activity, and the terrain. If in doubt, call the contact person listed for each field trip.
OUR TALKS are given by both experts and interested amateurs – one every month except during the summer. They provide an opportunity to learn what local scientists, volunteers, and HFN members are up to. Regular meetings with talks are held on the first Thursday of every month except July and August at 7:30 PM in the auditorium of the Nova Scotia Museum of Natural History, 1747 Summer Street, Halifax. Meetings are open to the public. Use the entrance next to the parking lot. There is a charge for parking at the Museum; usually, two hours will be adequate.
UNTAMED ATLANTIC CANADA THURSDAY, DEC. 7
Spanning twelve hundred kilometres from New Brunswick's Passamaquoddy Bay to Newfoundland's Avalon Peninsula, Atlantic Canada stands as a nexus between North America and the North Atlantic. Its diverse geography, variable climate, and ocean currents coalesce to create a rich medley of habitats both on land and in the sea. Scott Leslie, renowned Nova Scotia author and nature/wildlife photographer, will present a selection of the diverse wildlife photographs found in his latest book, and will speak about some of his experiences capturing this natural beauty in pictures. In addition, he will present some of his new work on habitats from the air not found in the book. A Q&A Session will follow and Scott will be available afterwards to sign any of his books you may have.
7:30 p.m. at the NSMNH
HOLIDAY SOCIAL
Our annual members' Holiday Social will take place after the above talk. Please bring your sweets or savouries and non-alcoholic beverages to the usual meeting area. A subscription to the Halifax Field Naturalist would also make a good holiday gift! Bring your money or a cheque. Please note – there are no facilities for heating food.
SHUBENACADIE CANAL & ITS RESTORATION THURSDAY, JAN. 4
Have you seen or wondered what the building on the Shubenacadie Greenway in Dartmouth is all about? Join architect Syd Dumaresq as he describes the replica of the Fume House his firm recently designed as he tells the background story of the life and times of the Shubenacadie Canal. 7:30 p.m. at the NSMNH
ANNUAL SEWER STROLL SUNDAY, JAN. 7
HFN and the Nova Scotia Bird Society, led by HFN/NSBS member Clarence Stevens Jr., will visit all the favourite winter bird sites in and around Halifax Harbour looking for ducks, gulls and alcids – Hartlen Point, Eastern Passage, Dartmouth Cove, Sullivan's Pond, Tuft's Cove, and the Bedford Waterfront. If weather conditions are favourable and time permits, we'll also visit Point Pleasant Park. Dress warmly and bring a lunch, binoculars and/or a scope, and field guides.
Storm Date: Jan 14th
Contact: Carol Klar, cklar@bellaliant.net, 443-3385
Time/Place: 9:00 a.m. at McCormacks Beach Provincial Park parking lot, just past Fisherman's Cove in Eastern Passage
Duration: Until mid to late afternoon
Difficulty: Easy to moderate