Walks & Talks
About Our Walks and Talks
Our walks are led by specialists or well schooled naturalists, and provide a good way to expand your knowledge of local natural history as well as to mingle with members of the natural history community.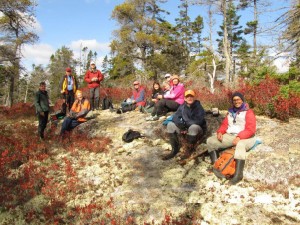 Brad Armstrong and Doug van Hemessen led HFN participants into the Nature Conservancy of Canada's Deep Cove Nature Reserve on Oct 24, 2015.
We usually have one or more walks a month throughout the year. All participants in HFN activities are responsible for their own safety. Always wear suitable clothing and footwear for the weather, the activity, and the terrain. If in doubt, call the contact person listed for each field trip.

Our talks are given by both experts and interested amateurs. They provide an opportunity to learn what local scientists, volunteers, and HFN members are up to. Regular meetings with talks are held on the first Thursday of every month except July and August at 7:30 PM in the auditorium of the Nova Scotia Museum of Natural History, 1747 Summer Street, Halifax. Meetings are open to the public, however in the event of the room being filled up, members would be given priority.  Use the entrance next to the parking lot. There is a charge for parking at the Museum; usually, two hours will be adequate.
Upcoming Events
Wed. Mar, 1, 2023: AGM & Members Slide Night
Time: 7:30 p.m.
Location: Nova Scotia Museum of Natural History
The Annual General Meeting takes place first, where reports on HFN's activities over the past 12 months are presented followed by the election of the next Board of Directors, including that of a new President. Then we view and hear about a variety of members' photos. If you are an HFN member and would like to share some of your favourite nature-oriented and/or vacation digital images, but are reluctant to give an extensive talk, this is a chance to give an eight-to-ten-minute mini-presentation. Six presenters can be accommodated on a first-come-first-served basis, with up to three first-time presenters having priority. If interested, please contact Clarence Stevens by February 23rd!!
---
Wed. April 12, 2023:. April Meeting Gardening with Native Nova Scotia Plants
Time: 7:30 pm
Location: Nova Scotia Museum of Natural History
Samuel Jean, a botanical technician at the Acadia University Harriet Irving Botanical gardens will lead us through the benefits and wisdom of using native Nova Scotia plants in our garden plantings. He'll also cover the disadvantages of using non-native plants. This promises to be an interesting evening by Very knowledgeable presenter.
---
Thurs. May 4, 2023: Bats of Nova Scotia
Time: 7:30 p.m.
Location: Nova Scotia Museum of Natural History
Andrew Hebda is retired as Curator of Zoology and is now Research Associate of the NS Museum of Natural History (NSMNH). His broad research background includes Mammalogy, Chiroptology, Ichthyology, Entomology, Limnology, and Malacology. Andrew will give a presentation on Bat Basics, and where we fit into the grand scheme; what we have here (both residents and migrants) as well as the challenges they face in our modern world. This will include an update on White Nose syndrome, the effects of wind generated technology, as well as a primer on how we can co-exist with bats in our dwellings. Andrew's talks are always very informative and entertaining.
7:30 p.m. at the NSMNH (lower entrance)
---
May 11, 2023: Shubenacadie Railway Thursday,
Shubie Park's Richard MacMichael will guide us on this walk as he details the construction, workings, and application of its marine railway and accompanying flume house. This ties in very well with the previous canal walk he led for us and promises to be equally as informative. Registration is required to allow for any scheduling changes to be communicated.
Rain Date: Thursday, May 18th
Contact: Bernie Mckenna, 902-434-3202, mckennab197@gmail.com
Time/Place: 1:00 p.m. at Starr Park, 58 Prince Albert Rd., Dart. Note parking is on one side of road only.
Difficulty: Easy; mostly mowed grass with possibly some paved sidewalk.
Duration: 2 hours
---
June Meeting – Status = pending – no firm information available
---
Jun. 17, 2023: Belcher's Marsh Walk Saturday
Join us as we're led on an informative walking tour of this wonderful marsh conveniently nestled right within HRM on Parkland Drive. Belcher's Marsh Park falls under the watchful guidance and protection of the Halifax North West Trail Association and Jessica Boyd, a veteran trail representative, will lead us in this opportunity to get to know the marsh more thoroughly. The trail itself is 2.5 km (one way) 5 km return and provides many diversified views of the marsh and surrounding vegetation. As well, it has a raised lookoff viewing point situated close to the entrance which gives one an expanded view of the marsh itself and some of its many inhabitants. This park provides HRM citizens welcome relaxing relief from their day to day routines and no doubt is appreciated by many. Registration is required to allow for any scheduling changes to be communicated.
Rain Date: Sunday, June 18th
Contact: Bernie McKenna, 902-434-3202, mckennab197@gmail.com
Time/Place: 10:00 a.m. Exiting off Lacewood it is on the right just past 429 Parkland Drive.
Difficulty: Fairly easy; well-packed earthen trail with some sidewalk. Note full walk is 2.5 km each way.
Duration: 2.5 hours
---
HFN Membership:  Just a friendly reminder that HFN memberships expire at the end of the calendar year. If you have not already   done so, please consider renewing your membership.
It should also be noted that Nature Nova Scotia memberships are no longer available via HFN. Should you wish to continue your membership with Nature NS, or join for the first time, please visit: 
https://naturens.ca/join/
---
---