Mission-Monarch Blitz July 28 to Aug 5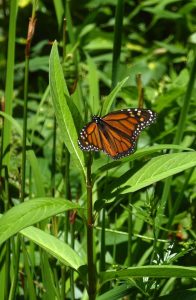 Naturalists,
The Mission-Monarch Blitz is scheduled this coming week of 28th July through the 5th of August.
I am sure you would like to help document the status of the Monarch butterfly in Nova Scotia. If you know where there is milkweed growing that is where the Monarchs reside to lay eggs, feed and pupate.
At the moment there are all forms present (eggs, larvae, pupae, and butterflies). We would like you to search patches of milkweed and report what you discover. There is an easy one page form to report your results at http://mission-monarch.org. If you find nothing, that is of value also.

There is lots of guidance for the survey at Mission-monarch.org.
Don't know what to look for? See …
http://www.mission-monarch.org/steps/get-ready/monarch-identification/
Don't know what milkweed looks like? See…
http://www.mission-monarch.org/steps/get-ready/milkweed-identification/
You will only have to look for Common or Swamp milkweed in our area. In the Valley, Common is much more 'common'.
Don't know where to start? If you live in or near the Annapolis Valley Look at the Common Milkweed maps at ….
http://nw.nature1st.net/index.php?id=milkweed-common-locations
(or go to valleynature.ca)
Note: If you find some milkweed patch not on the map… great… take down the location and send it to me (info@valleynature.ca)
If you can not do the blitz next week, the survey is not really limited to that one week but you can survey anytime between now and the end of August.
Thanks for your attention.. and help.
Larry
—
Larry Bogan July 28, 2018
Brooklyn Corner
ldboganATgeemail.com . (wink wink)
Also see MTRI's Butterfly Club
Posted: July 28th, 2018 under Conservation.