HRM: Are you ready for the Birch Cove Rangers?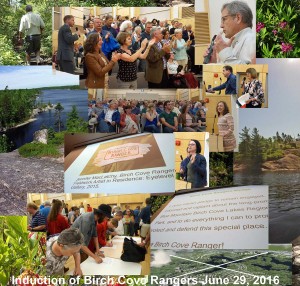 Three-hundred plus citizens passionate about Blue Mountain Birch Cove Lakes (BMBCL) attended the public meeting about the planned BMBCL Regional Park this evening (June 30, 2016), which followed a highly criticized Facilitator's Report. Two MLAs (Diana Whalen, Joachim Stroink) attended. There were only two HRM Councillors (Waye Mason & Jennifer Watts) present, but several candidates who will run in the fall election were there. EAC's veteran BMBCL campaigner Raymond Plourde gave a history of the Regional Park and MC'd further presentations and discussions to repeated applause. Finally, following a presentation by the first Birch Cove Lakes Ranger, Jennifer MacLatchy, participants made a pledge to be Birch Cove Lake Rangers. It was a light-hearted action but those who pledged (most if not all present) were very serious about their commitment to follow-up as needed to ensure the BMBCL Regional Park is developed as originally conceived.
If you missed it all, you can still view Jennifer's wonderful Birch Cove Ranger blog, listen to 300 or so citizens making the Pledge and read posts about events leading up yesterday's meeting. See also the Metro News report about the meeting
Please be sure to write/phone Regional Councillors to express your support for BMBCL Regional Park before 3 pm, Monday July 4:
– E-mail the city of Halifax at clerks@halifax.ca OR
– write a letter to the Municipal Clerk by mail, P.O. Box 1749, Halifax, Nova Scotia, B3J 3A5; by fax, 902-490-4208.
Remember that July 4th is the Monday after the long Canada Day weekend, so you might want to do this before Canada Day (July 1).
Posted: June 29th, 2016 under BMBCL.