Reg Rankin's controversial motion sidetracked, consideration of BMBCL on Sept. 6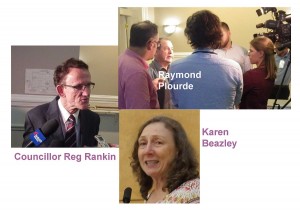 Reg Rankin's controversial Item 15 was moved up the agenda at the Regional Council meeting this afternoon. After a confusing set of discussions and motions about "Map 3A" (cited in item 15) and whether it should be released in camera, a motion was passed requesting that a full report from staff with "all maps" be forwarded for debate at Regional Council on Sept. 6. That's the first Tuesday after the Labour Day weekend. Staff said they could have the report with maps ready for public release on Wed Aug 31. Scrums with Raymond Plourde of EAC, Prof. Karen Beazley (School of Resource and Environmental Studies at Dal) and Councillor Reg Rankin went on for about 45 minutes. It was very clear that the 1500 letters written to Mayor and Council in support of the original plan for the BMBCL Regional Park had made a big impression but it's still far from a slam dunk for the Regional Park. See LocalXPress for more details.
Posted: July 26th, 2016 under BMBCL.