CPAWS asks for support to Save Owls Head Provincial Park Reserve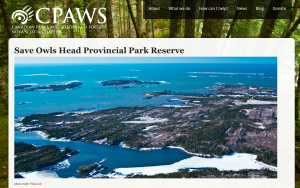 From action.cpaws.org:
"The Nova Scotia government has secretly de-listed Owls Head Provincial Park Reserve and is now preparing to sell-off these public lands to a private developer who is interested in building golf courses.

"This decision was made behind-closed-doors with ZERO public consultation. The only reason why this delisting is known is because of the investigative reporting by Michael Gorman at CBC Nova Scotia.

"We urgently need your help to STOP the Nova Scotia government from selling off this coastal park for private development.

"Please send an email to Premier Stephen McNeil that calls on the government to 1) stop the sale of public lands at Owls Head, and 2) immediately protect these lands using the Wilderness Areas Protection Act."
The CPAWS Action Website provides a form for sending a letter – please do
For more about this important conservation issue:


– Owls Head development would mean 'complete destruction' of its ecology, says biologist
Michael Gorman for CBC News, Jan 21, 2020
– Sound Off: Digging deep into Owl's Head park
CBC Facebook video. "Owl's Head Provincial Park was delisted as a property slated for protection, likely for it to be used for development. CBC's Mike Gorman and Jean Laroche dig into the lack of transparency." Jan 21, 2020
– The Local Climate – Owls Head
Zack Metcalfe in pictouadvocate.com/ Jan 16, 2020
'We are against backroom deals': Eastern Shore group against golf resort proposal
Michael Gorman · CBC News Jan 3, 2020
– Group calls for government to re-commit to protecting Owls Head Provincial Park
Victoria Walton in Halifax Today, Dec 22, 2019:
The news breaking story:
N.S. won't protect land with 'globally rare' ecosystem that company eyes for golf resort
Michael Gorman · CBC News Dec 18, 2019 "Conservationists concerned as company proposes 2 or 3 courses in Little Harbour"
Posted: January 23rd, 2020 under Conservation.