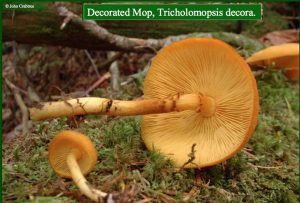 Monthly Meeting – Mushrooms– Thursday, October 6 at 7:30 at the Museum of Natural History
The meeting will be at 7:30 PM in the auditorium of the Museum of Natural History. It will be an in-person meeting only. Attendees will not be required to wear a mask, but are welcome to do so if they wish.
John Crabtree, founding member and Regional Director for HRM of the Nova Scotia Mycological Society, and local mushroom expert will share some of his vast knowledge of mushrooms. As the local mushroom "expert", he is often called on by organizations such as the Nature Conservancy of Canada, the Ecology Action Centre and Nova Scotia Nature Trust for guided walks, presentations and bioblitzes.
John's presentation will be followed by a guided mushroom walk on Wednesday, October 12th at Shubie Park in Dartmouth. Meeting place will be in the main parking lot. Please note that registration is required for this walk. Please contact Patti L (pattileclerATgmaxxl.cxm) for registration and further details. There is no rain date.
Please note: John's mushroom talk has proven to be a very popular event. Thus, paid up members will be given seating priority until 7:20. After 7:20, seating will be open to all on a first come, first served basis until maximum capacity is reached.