iNaturalists observed 88% of the known vascular flora of Ontario in 2019
"The 2019 Big Year was a huge success. Over 200,000 observations were submitted to the project. That's ten times the number of observations submitted to the first Big Year in 2018. Every single municipality and ecoregion in the province was represented this year and a total of 3,150 species were observed, 2,906 of which were vascular plants (Tracheophyta). Approximately 3,300 species of vascular plants are known to occur in Ontario which means that approximately 88% of the known vascular flora of Ontario was observed this year!"
View more about it at 2019 Ontario Botanists' Big Year's News (post by Will Van Hemessen on iNaturalist, Jan 1, 2019).
Halifax did pretty well in the 2019 iNaturalist City Nature Challenge.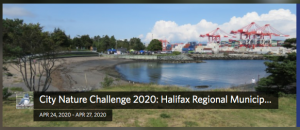 HFN is participating in the organization of this year's (2020) City Nature Challenge scheduled for April 24-27, 2020
Stay Tuned!
Posted: January 1st, 2020 under Conservation, Events.