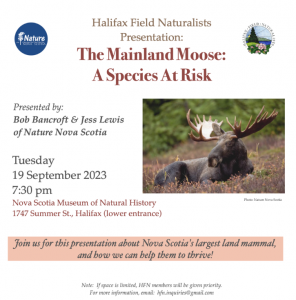 As of September 2023 our regular meeting time has been changed from the first Thursday of the month to the third Tuesday on the month.
They are still being held at the Nova Scotia Museum of Natural History, 1747 Summer Street, Halifax, beginning at 7:30 pm.
First meeting for the fall of 2023:
Tuesday Sep 19, 2023
The Mainland Moose: A Species At Risk
Presented by Bob Bancroft and Jess Lewis of Nature Nova Scotia
View Walks & Talks for more details, meetings, walks.