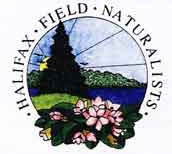 The Halifax Field Naturalists have published a newsletter, generally four per year, since its inception in 1975. In 2015, David P. electronically archived past issues as a contribution to the celebration of HFN's 40th Anniversary in October of 2015.
Our policy is to make all issues except those for the most recent three years available on this page as PDF documents.
Thanks to Bob and Wendy McDonald, Shirley McIntyre and Stephanie Robertson for making past issues available for this purpose. Materials may be reproduced or modified under the conditions of a Creative Commons License.These are searchable* PDF documents requiring use of Acrobat Reader.
Unfortunately, the simple search tool that was available on this page previously and allowed one to search all issues for a specific word or phrase failed to work following the recent site software update, so it has been removed. However, the whole website, including the newsletters, can be readily searched using Google Advanced Search. For the "site or domain" Box, enter halifaxfieldnaturalists.ca
Click on an issue number below to link to the related PDF document. Depending on your browser version and how its configured, you may be able to read and search within an individual  PDF directly in the browser; alternatively, you may have to first download the PDF and then open it.*The searches may not be 100% accurate as all except the more recent issues were prepared by scanning print documents and then OCR processing them (using Adobe Acrobat Pro). However, it works pretty well.