100 Islands Celebration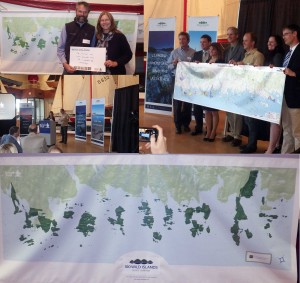 At the NS Nature Trust 2015 Conservation Showcase held at the Maritime Museum of the Atlantic on June 18, 2015, NS Nature Trust personnel said that their 7M$ project to protect private lands in the 100 islands Campaign is now almost 90% funded and that they have protected more than 5000 acres. Minister of Environment, Randy Delorey announced that the Province has now legally protected the Eastern Shore Islands Wilderness Area which is 4600 acreas.  "Together, we are protecting a globally significant island wilderness, at a scale that neither the province nor the Nature Trust could do on its own," said Delorey.
Bonnie Sutherland (NS Nature Trust's Executive Director) expressed thanks to land owners who have been involved and especially to Paul Gauthier, who she credited with initiating the concept of protecting the 100 islands. She spoke about his "sprit of adventure, the courage to take a risk, and a transformational gift of 3.5 M$…All Nova Scotians owe thanks to PG for Coastal lagacy that is 100 islands and for raising all of our sights a little higher". Marc St. Onge of Ascenta was lauded for his company's ongoing support of the Nature Trust as the first Nova Scotian subscribers to the http://onepercentfortheplanet.org/ campaign.
What remains to be financed is substantial:  approximately $800,000 for 2000 acres, 23 additional properties islands. "We still need your help", said Bonnie.
NS Nature Trust also reported on their Rogues Roost Conservation Campaign "We invite Nova Scotians and all who know and love Rogues Roost to step up and help in its protection."
Posted: June 18th, 2015 under Uncategorized.